Pakistan Designers, Models Defy Taliban With First Fashion Week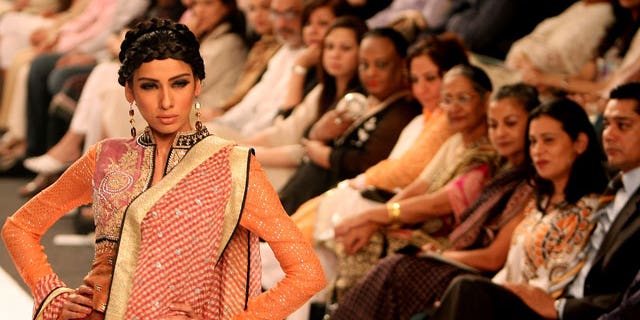 KARACHI, Pakistan – Some women strode the catwalk in vicious spiked bracelets and body armor. Others had their heads covered, burqa-style, but with shoulders — and tattoos — exposed. Male models wore long, Islamic robes as well as shorts and sequined T-shirts.
As surging militant violence grabs headlines around the world, Pakistan's top designers and models are taking part in the country's first-ever fashion week. While the mix of couture and ready-to-wear fashions would not have been out of place in Milan or New York, many designers made reference to the turmoil, reflecting the contradictions and tensions coursing through this society.
The four-day event, which was postponed twice due to security fears and amid unease at hosting such a gathering during an army offensive in the northwest, is aimed at showing the world there is more to Pakistan than violence and at helping boost an industry that employs hundreds of thousands of people, organizers said.
Many of the models, designers and well-heeled fashionistas packing out each night said the gathering was a symbolic blow to the Taliban and their vision of society, where women are largely confined to the house and must wear a sack-like covering known as a burqa.
"This is our gesture of defiance to the Taliban," said Ayesha Tammy Haq, the CEO of Fashion Pakistan Week. "There is a terrible problem of militancy and political upheaval ... but that doesn't mean that the country shuts down. That doesn't mean that business comes to a halt."
The shows are taking place in Karachi, the country's largest and most cosmopolitan city, in a five-star hotel just next door to the American consulate, which was bombed by Islamist militants in 2002. It's two hours by plane from the northwest, the heartland of Al Qaeda and the Taliban, and has largely been spared the violence sweeping the country over the last month.
"Unfortunately, it is the bad side of Pakistan that gets everybody's attention," said top Pakistani model Nadia Hussain as hairdressers and makeup artists fussed over her backstage. "It has never been this bad, I don't know what will happen," she said, as fellow models chain-smoked cigarettes.
While many of the city's 12 million people live in slums, hip cafes and restaurants in wealthy neighborhoods draw sophisticated crowds of young men and women into the early hours, more often than not speaking English with each other and wearing Western dress.
While the shows in Karachi resembled fashion weeks in other parts of the world, there were no foreign designers or buyers. The organizers decided not to invite them given the precarious security situation.
"Who is going to come here with such negative stuff going on?" said Tabassum Mughal, a young designer who employs about 30 people. "Those who are here already are leaving."
Textiles make up some 60 percent of Pakistan exports and are worth around $12 billion dollars a year. The country's cotton and silks are among the finest in the world. But the industry has failed to grow in recent years amid political unrest, violence and chronic power shortages.
As if on cue, a power cut during the fashion week's opening evening left the hall in darkness for several minutes.
The fashion industry represents a tiny fraction of the country's textile exports.
"We are still doing the 30 dollar a dozen T-shirt business. There is no value added," said Haq. "We should be employing millions of people, not hundreds of thousands of them."
Designers presented a mix of clothes, some drawing on traditional Pakistani outfits and tribal motifs, others that had little or no sign of traditional aesthetics. In a culture where nearly all women dress modestly, many outfits were too racy for local tastes.
"This does not represent what we are as a people," designer Ayesha Tahir Masood said. "Only 0.001 percent of Pakistani women would wear these clothes, and then only in a controlled environment when drunk out of their minds."