Oscars: 10 awful moments in Academy Awards history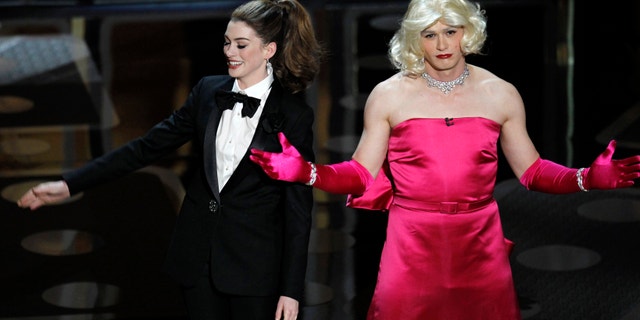 Though meticulously planned, film's most important night of the year rarely goes off without a hitch. When you get too many of Hollywood's biggest names in a room, there's bound to be some mayhem. Here are the 10 worst Oscar moments of all time.
10. James Franco and Anne Hathaway host the Oscars
James Franco and Anne Hathaway are great actors, but the two didn't make such great Oscar hosts in 2011. They were called "boring," "spectacularly bad" and the like by critics across the board. The worst moment of the night came when Franco dressed up as Marilyn Monroe, pretty much guaranteeing that he would never again host the awards show.
9. Jack Palance shows us he can do push ups
Jack Palance had already showed the world he was the best supporting actor out there in 1992, so he decided to show off his strength when he took the Oscars stage to accept the award. He used his time in the spotlight to show he could do a one-armed push up...in fact he did several. The actor then continued with a strange, rambling speech.
8. Sacha Baron Cohen dumps ashes on Ryan Seacrest
In 2012, Sacha Baron Cohen turned up at the Academy Awards dressed as his movie character "The Dictator" and dumped gray "ashes" on everyone's favorite red carpet host Ryan Seacrest. The "American Idol" host handled the ambush like a pro and quickly returned to his red carpet interviews.
7. Rob Lowe sings and dances with Snow White
The 1989 Oscars opener featured a beyond awkward musical number, during which Rob Lowe sung and danced alongside Eileen Bowman dressed as Snow White. The ensemble is said to have destroyed the career of its producer, Allan Carr.

6. Michael Moore gets political 2003
When Michael Moore won an Oscar for "Bowling for Columbine" in 2003 he turned his acceptance speech into a political pitch. Moore took the opportunity on stage to criticize the Bush administration and was met with conflicting cheers and boos from audience members, who –like viewers at home—just wanted to hear him talk about his movie.

5. James Cameron: I am the king of the world
In 1997, we'd all memorized at least a few of Leonardo DiCaprio's iconic lines from "Titanic," and so did James Cameron, apparently. When accepting the award for best director at the Oscars, Cameron exclaimed "I am the king of the world!" It became known as one of the most arrogant Oscar moments of all time.

4. David Niven gets upstaged by naked man
In 1974, presenter David Niven was speaking on stage when a man behind him ran on stage completely naked. "That was almost bound to happen," a quick-witted Niven said.
3. Marlon Brando refuses Oscar
In 1973, Marlon Brando won the best actor Oscar for his performance in "The Godfather," but Brando wasn't having it. The actor famously turned down his award and didn't attend the ceremony. He sent activist Sacheen Littlefeather in his place to discuss his disapproval of the portrayal of Native Americans in TV and movies.

2. Angelina's PDA with her brother
At the 2000 Academy Awards, Angelina Jolie made out with her date to the show-- who just happened to be her brother. The gross-out moment was caught on camera and replayed plenty of times, leaving many questioning just how close the brother and sister pair were.

1. Sally Field gives that speech (you know the one)
In 1985, Sally Field delivered the most quoted (and misquoted) Oscars acceptance speech ever. "You like me! Right now, you like me!" she yelled on stage. Yeah, we're guessing she wishes she could take that one back.
[youtube u_8nAvU0T5Y]