NY Times accused of anti-Israel bias in coverage of Mideast violence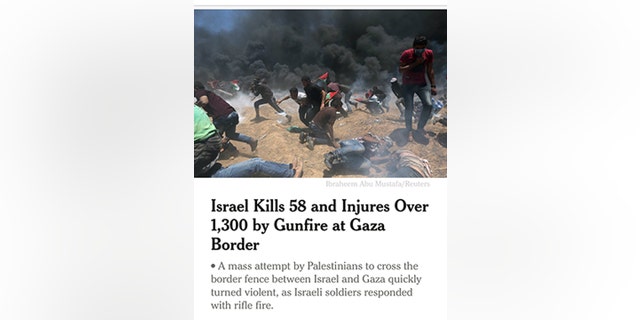 Critics on social media accused The New York Times of anti-Israel bias in the newspaper's reporting on riots in the Gaza Strip that left dozens of Palestinians dead Monday.
At the height of the violence, the headline on the Times' website read: "Israel Kills 58 and Injures Over 1,300 by Gunfire at Gaza Border." As of Monday evening, the slightly edited headline read: "Israeli Soldiers Kill Scores at Gaza Border; Thousands Hurt."
A subhead described "[a] mass attempt by Palestinians to cross the border fence" that "quickly turned violent, as Israeli soldiers responded with rifle fire."
MEDIA WATCHDOG HANGS HUGE BILLBOARD OUTSIDE NY TIMES OFFICE ACCUSING PAPER OF ANTI-ISRAEL BIAS
An Israeli military spokesman said protesters carried out "concerted, coordinated" attacks on the border fence separating Gaza from Israel, causing "significant damage."
Lt. Col. Jonathan Conricus also told The Associated Press that Hamas militants disguised as protesters tried to infiltrate, and there were at least three instances of armed Hamas gunmen trying to carry out attacks. The Times did not mention those claims until the 42nd paragraph of its main story Monday night.
Some Twitter users accused the Times of ignoring the Hamas angle. One user tweeted that "Hamas organized and sacrificed these poor people. They are pawns who the Palestinians [sic] powers give less than a damn about."
Another user called the paper's coverage "anti-semitic" and "skewed."
The Times' coverage of Middle Eastern affairs has long been a point of contention. Earlier this month, the pro-Israel watchdog group Committee for Accuracy in Middle East Reporting in America (CAMERA) put up a large billboard outside the paper's Manhattan headquarters accusing it of "[d]efaming Israel with distorted 'news.'"
The organization went as far as to create a "Times-line" of what it called the newspaper's "stumbles" in its coverage of the Israeli-Palestinian conflict.
"The New York Times can and should provide excellent journalism, but unfortunately its coverage of Israel right now is often marred by errors, bias, and significant omissions," CAMERA senior research analyst Gilead Ini told Fox News at the time. "In the recent Gaza violence driven by Hamas, to mention just one instance, the Times termed the barrages of fire bombs, rocks and attempts to tear down the border fence an 'experiment with nonviolent protest.'"
Representatives for The Times did not immediately respond to requests for comment.
Fox News' Brian Flood and The Associated Press contributed to this report.