Never mind famous rant, 'Kanye West loves me,' Bruno Mars says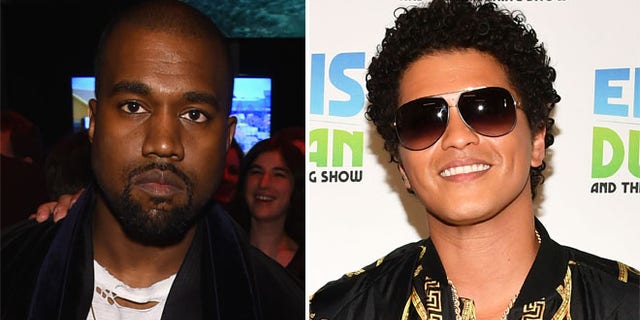 As far as Bruno Mars is concerned, Kanye West's rant and dis is water under the bridge.
The singer, whose real name is Peter Gene Hernandez, told Rolling Stone magazine recently that he doesn't hold any resentment towards the rapper who went on a rant about him during a 2013 concert.
"It's Kanye — bottom line, at the end of the day, we need Kanye," Mars told the music magazine. "But what he said wasn't a sting. You can come at me all you want — I've set myself up for that ... I am my own biggest critic."
West, 39, famously went off at a Brooklyn concert after Mars took home two statuettes at the 2013 MTV Video Music Awards, including best male video for "Locked Out of Heaven."
"I'm watching Drake perform, I see Bruno Mars perform," the rapper said during the concert, according to Us Weekly. "And then they start giving out awards and ... Bruno Mars won all the m-----f---ing awards! Can't no m-----f---ing networks try to gas everybody up so they can sell some product with the prettiest m-----f---er out [there]?"
Mars told Rolling Stone that West reached out and apologized after the incident.
"Me and him, we're cool," Mars told Rolling Stone, adding, "Kanye loves me, man. You know that. Who doesn't? I'm Bruno Mars!"