NBC turns to 20-year-old skating scandal on Olympics' last night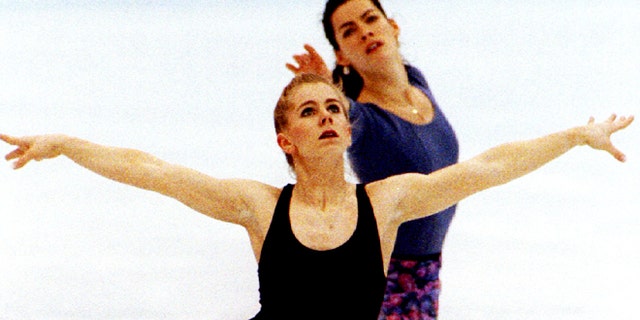 LOS ANGELES – NBC is planning to end its Sochi Olympics coverage with a 20-year-old story.
On the Winter Games' last night, the network has scheduled a one-hour documentary spotlighting one of the Olympics' low moments, the qualifying round to the 1994 Olympics in which figure skater Tonya Harding's husband and others conspired to put fellow U.S. skating favorite Nancy Kerrigan out of the Championships. She was clubbed from behind, severely injuring her knee in what became known as "The Whack Heard around the World."
The decision to air the documentary on an evening that usually calls for celebration has drawn criticism.
"This is a lame attempt by NBC to inject some more controversy into the Olympics to try to get some of the viewers that skating received 20 years ago," Dan Gainor, VP of Business & Culture at the Media Research Center told FOX411. "NBC clearly thought it needed to build interest for the close. Instead of focusing on the medal battle for which nation would come in first, it chose cheap soap opera dramatics."
Mary Chastain, a journalist for Breitbart.com, concurred that the timing of the doc was "very distasteful."
"They should have aired it before the Olympics or waited until they were over. Monday would have been a suitable choice," she said. "They are trying to capitalize on people's obsession with drama, but unfortunately using the wrong kind of drama."
The documentary is being billed as "featuring an exclusive sit-down with Nancy Kerrigan and one-on-one with Tonya Harding," as well as being comprised of interviews with coaches for the two competitors, analysts and journalists. It is not clear when the footage of Kerrigan and Harding was shot, but Kerrigan now works as an analyst for NBC.
Just weeks ago, the two athletes at the center of the scandal dismissed attempts by the press to continue reliving the ordeal.
"Get over it, okay? Its 20 years. I'm sure that she's done and I am too," Harding told Access Hollywood in January, while Kerrigan told USA TODAY Sports: "I really don't look back unless someone asks me to look back, and then I have to."
According to Dr. Dwight DeWerth-Pallmeyer, Associate Professor and Director of Communication Studies at Widener University – who specializes in popular culture, media's effects on society and the mass media industry – while the timing of the story might have been better aired on a "weaker" night of Olympic programming, the topic is clearly germane and makes great sense.
"For better or worse, Tonya and Nancy were the big story of the 1994 Lillehammer games," he said. "It became sport, a seeming 'cat-fight,' wild speculation, and later courtroom drama. TV writers couldn't have scripted anything better."
Although Kerrigan's injury forced her to withdraw from the U.S. Championships, the USFSA chose to name her to the Olympic team and she trained intensely to compete at the Games in Norway seven weeks later, winning a silver medal. Harding, who maintains her innocence regarding her involvement in the attack, went on to win the Championships when Kerrigan was out, but was later stripped of her titles and from participating in USFSA-run events for life.
NBC's Harding/Kerrigan doc is not even the first on the subject this year. ESPN aired its own documentary about the incident, "30 For 30: The Price of Gold," leading up to the Olympics in January.
NBC did not respond to a request for comment.
Follow @holliesmckay on Twitter.