Michelle Rodríguez on Battle LA: "I Loved All of the Training and the Action"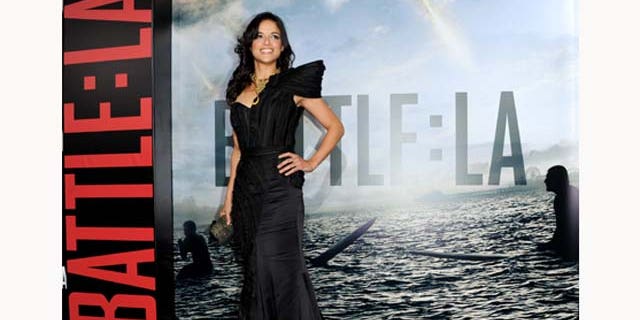 Actress Michelle Rodríguez is back on the big screen, this time as Corporal Adriana Santos in the action-packed movie "Battle: LA."
The movie, about a marine captain trying to save the human race from aliens invading Los Angeles, premiered Tuesday night at the Regency Village theatre in Los Angeles.
In order to play her physically demanding role, Rodríguez said she had to train hard.
"I loved all of the training and the action," Rodríguez told Fox News. "But the running… the PT (physical training) was pretty intense. Having to run every day for two miles at 6 o'clock in the morning… I mean really?"
Seems as though the hard work paid off. Rodríguez showed off her trim physique Tuesday night, wearing a long silky glamorous black gown.
Other Latinos joining Rodríguez include Michael Peña, who plays Joe Rincón and Ramon Rodríguez, who stars as 2nd Lt. William Martínez.
The film was shot last summer in a sweltering Louisiana, making the already physically exhausting production more difficult.
"More of an element challenge," Ramon Rodríguez said. "You are carrying 40 extra pounds on your body, plus your weapon."
You can reach Alexandra Gratereaux at: Alexandra.Gratereaux@foxnewslatino.com
Or via Twitter: @GalexLatino
Follow us on twitter.com/foxnewslatino
Like us at facebook.com/foxnewslatino