Michelle "Bombshell" McGee to Kat Von D: You Got Sloppy Seconds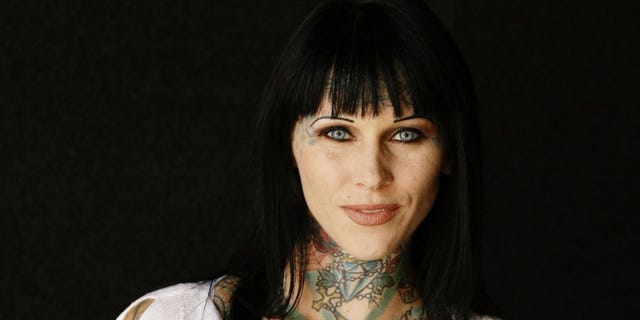 Michelle "Bombshell" McGee's response to Kat Von D's claim that Jesse James cheated on her with 19 women was icy cold.
The heavily tattooed model, who was the first to expose James' cheating ways (And she broke up his marriage with Sandra Bullock,) felt no sympathy for "Kat Von Dude" as she calls her during a TMZ interview posted up on the gossip site Tuesday night.
"Is she even relevant anymore?" McGee asked the TMZ reporter. "Everyone told the idiot that the douche bag is a cheater."
McGee did not stop there.
"Do I feel sorry for her or any feelings at all? … No," she added. "She got my sloppy seconds and her show got canceled."
In regards to Von D's chest tattoo of her former cheating fiancé? McGee wished her the best. Um, not really.
"I hope she's a really good artist to cover up that awesome tattoo she got of his face," the vixen said in a snarky tone. "Good job Kat Von Dude."
Allegations about James cheating on Von D surfaced just three days after the couple split again; they had recently made up following their first breakup. The two have been an item for the past two years.
James' marriage to actress Sandra Bullock abruptly ended after his affairs, with model Michelle "Bombshell" McGee, among others, went public.
Von D parted ways from her show on TLC, "LA Ink" after TLC claimed the show was cancelled, angering Von D.
"I love how me deciding to not continue doing LA Ink, turns into being "cancelled." Thanks TLC.," Von D posted on her Twitter account.
Von D added that she is proud of her work. "As grateful as I am to have been a part of a show like LA Ink, I'm ready to end this chapter and want to focus on other projects now," she told PEOPLE.
"Regardless of everything I remain grateful," she added.
You can reach Alexandra Gratereaux at: Alexandra.Gratereaux@foxnewslatino.com or via Twitter: @GalexLatino
Follow us on twitter.com/foxnewslatino
Like us at facebook.com/foxnewslatino