Miami Hookup: A-Rod and Cameron Diaz Get It On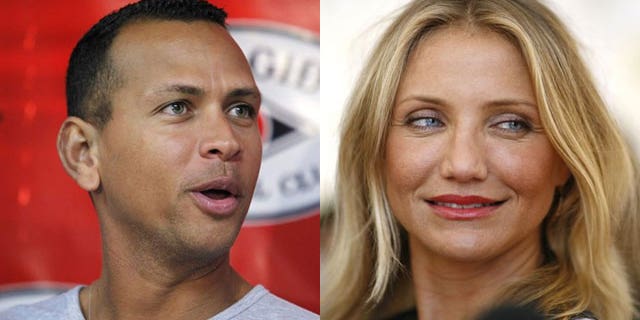 NEWYou can now listen to Fox News articles!
LOS ANGELES – It sounds as though Mr. Alex Rodriguez has quite a thing for hot Hollywood blondes – his latest target being Cameron Diaz.
According to an inside source, the New York Yankee and the "There's Something About Mary" starlet met some time ago and have been "talking" and "hanging out."
The duo first made their affection for one another public at CAA's Super Bowl bash at WALL inside the W Hotel South Beach over the weekend. According to an insider, the two spent the whole night all over each other with Diaz even doing a special dance where she propelled herself onto her Yankee man.
SLIDESHOW: The Lovely and Talented Cameron Diaz
"They are totally into each other and weren't concerned about hiding it at all. They were really playful and seemed to be having so much fun together," said our source, adding that they "totally" hooked up and even left the party together.
Another eyewitness told Pop Tarts that A-Rod arrived around 1 a.m. and went straight over to Diaz. The "very affectionate" twosome apparently spent the night sipping Grey Goose cocktails and dancing in a corner table with Tom Cruise and Katie Holmes.
As for Cruise, it appears the "Top Gun" star is quite the Jay-Z fan.
SLIDESHOW: Actresses Who Date Baseball Players
"When the DJ played 'Empire State of Mind' Tom grabbed Katie and was singing all the words," added our insider. (Hey, at least he refrained from jumping on the couch).
But turning back to A-Rod, the night before, Pop Tarts spies spotted the MLB star (who refused to pose for any pictures) hanging out with pals Jamie Foxx, Derek Jeter and funnyman Damon Wayans at the TAO Super Bowl Party. And although the baseball star was surrounded by a slew of gorgeous women, he didn't pay them any attention.
But while he only seems to have eyes for Diaz these days, can she hold his attention better than his previous leading lady, Kate Hudson?
After six months together, late last year Hudson and Rodriguez called it quits among a swirl of rumors that the baseball champ was still hung-up on his former flame, Madonna. Meanwhile 37-year-old Diaz reportedly ended things last May with model Paul Sculfor after an intense year together.
But despite her lack of luck in the love department, Diaz still credits the romance that her parents shared as her central source of inspiration.
"It's a bond that is so true, so pure, and so powerful, it is the most beautiful and inspiring thing that I have ever witnessed -- the eternal love that my mom and dad shared," Diaz told Pop Tarts last year. "It was what has given me the strength and courage to live this extraordinary life and it is what powers the light that burns inside of me."