Meghan Markle, Prince Harry's wedding will be more 'Americanized,' Queen Elizabeth's party planner says
Meghan Markle and Prince Harry's wedding will be more "Americanized" because the former actress is handling most of the details leading up to the big day, Queen Elizabeth's longtime party planner said.
Lady Elizabeth Anson opened up to Sky News about the soon-to-be married couple and said the upcoming May 19 royal wedding would be "more Americanized" than Prince William and Kate Middleton's nuptials.
"Meghan is more in charge of that [wedding planning] so I think it would be more Americanized," Anson said.
WHO WILL WALK MEGHAN MARKLE DOWN THE AISLE AT THE ROYAL WEDDING IF HER FATHER CAN'T ATTEND?
She revealed the American tradition to host a rehearsal dinner won't happen before the royal wedding day.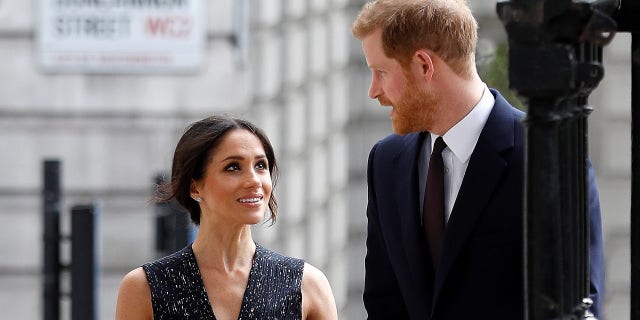 Anson said Harry and Markle are "hopelessly in love," adding that their affection for one another was "actually not gross" and just "adoring."
"When they got engaged and [they posed for] those photographs and they did that interview...  It actually made your heart really feel warm towards them," she said. "And I said, 'You know, that's lovely that you can give all the rest of us that pleasure through your own happiness,' and I think that's key."
She called the couple "very tactile" and said she believed the wedding day would be a success.
"I think because the public are so behind this and are particularly so behind Harry, that whatever it is, it's going to be a success," she said. "They've been very generous in what they've let the general public know. You don't normally know you're going to have an elderflower cake."
MEGHAN MARKLE'S FATHER NOT ATTENDING ROYAL WEDDING AFTER HEART ATTACK, STAGED PAPARAZZI PHOTOS, SAYS REPORT
The wedding planning seemed to hit crisis mode on Monday when TMZ reported Markle's father, Thomas, decided not to attend the royal wedding after recently suffering a heart attack and staged photo debacle. The report said Thomas' choice was to prevent further embarrassment to the royal family and soon-to-be duchess.
Kensington Palace released a statement saying it is a "deeply personal moment for Ms. Markle in the days before her wedding," but did not comment on the TMZ report. It's unclear who will be walking Markle down the aisle at St. George's Chapel.