Media mogul upsets LA Times union after paying himself $15 million holiday windfall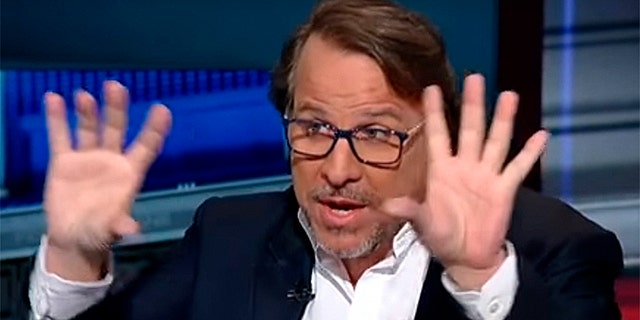 A media mogul whose company owns three beleaguered newspapers picked a Christmas quarrel with his newsroom union when he appeared to stuff his own stocking with a $15 million consulting deal.
Tronc Chairman Michael Ferro, whose company owns the LA Times, Chicago Tribune and New York Daily News, awarded himself $15 million in consulting contracts, upsetting the Los Angeles Times newsroom union in the process.
According to an SEC filing, Ferro hired Merrick Media – which is also owned by Ferro – for a deal that pays $15 million over three years to "provide certain management expertise and technical services."
The deal seems to indicate he is paying himself an additional $5 million per year through 2020, and the Los Angeles Times Guild was not pleased with the news.
It mocked Ferro in a posting to its website. The additional cash "would cover the cost of his sleek Bombardier jet and any other luxury travel he chooses to indulge in," according to the Guild.
"In fact, Ferro gets the money even if he never takes to the skies again — or leaves the house. This is all according to a SEC filing that Tronc clearly timed for the Friday afternoon before Christmas," the Guild continued.
The filing states the annual fee of $5 million will be paid in cash, in advance on the first business day of each calendar year. The deal doesn't specifically state what Merrick Ventures will actually do.
"It essentially replaces the leasing arrangement in which Tronc paid Ferro's Merrick Ventures for his own use of the jet. That act of plundering cost Tronc -- and its newsrooms -- $4.6 million between February 2016 and last September," the Guild wrote."Ferro is now free to spend nearly twice that amount per year on the jet or anything else he desires. And he won't have to break out the travel expenses on future SEC filings."
The Los Angeles Times Guild organizing committee has asked Tronc to allow NewsGuild, the organization that represents our journalists at The New York Times, Washington Post, Wall Street Journal, Reuters and the Associated Press, to recognize NewsGuild as its representative.
The Guild also did a little math to support why it is so upset with Ferro and his timing might not be so great, as the union is seeking to win approval from Los Angeles Times newsroom employees in a vote on January 4.
"This is a historic moment for this newsroom, capping months of conversations on what we can do to safeguard the future of the Los Angeles Times and its journalists," the Organizing Committee said in a statement.
"If Ferro flew first class on a commercial airline, instead of on a private jet that costs $8,500 an hour, his 'sacrifice;' would go a long way toward giving us decent raises each year, while lowering our healthcare premiums and restoring our accruable vacation pay. And he'd still have plenty of legroom," the group wrote.
The Guild also claims that Tronc executives pay themselves more than "their counterparts: at similar media companies such as The New York Times and Gannett despite layoffs and budget cuts throughout the company.
"Hypocrisy at its highest point," the group wrote.
The Jan. 4 vote will be conducted via secret ballot and counted on Jan. 19.
"All of those Tronc executives also have employment contracts — which means their wages and benefits are guaranteed in writing. And yet they're fighting to keep you from negotiating a Guild contract," the Guild wrote. "Let's stop the looting of The Times by voting yes for the Guild on Jan. 4."