Mandy Moore discusses marriage with Ryan Adams: 'I was so lonely'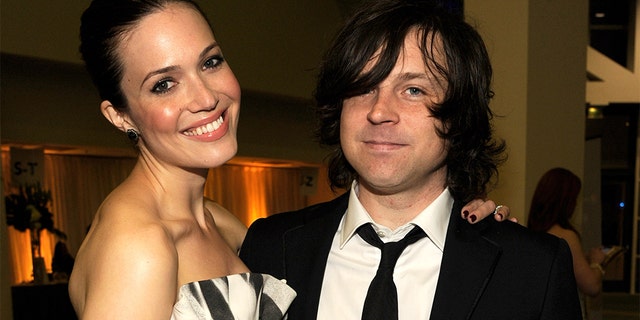 Singer and actress Mandy Moore reflected on her past relationship with former rocker husband Ryan Adams in the wake of a shocking expose in which several women accused him of sexual misconduct.
As previously reported, Adams, 44, was the subject of a New York Times report in which seven women accuse him of "manipulative behavior." Among those seven was Moore, 34.
RYAN ADAMS SEXUAL MISCONDUCT ACCUSERS MANDY MOORE, PHOEBE BRIDGERS SLAM ALLEGED 'NETWORK OF ENABLERS'
Appearing on the "WTF With Marc Maron" podcast on Feb. 18, Moore opened up about her relationship with Adams and how she's able to see it in a different light now that everything has been made public in the expose.
"I was living my life for him," the "This is Us" star said. "I had no sense of self. I was imperceptible. I was so small in my own world."
She continued: "I felt like I was drowning. It was so untenable and unsustainable and I was so lonely. I was so sad. I knew that this wasn't the rest of my life. I knew that this wasn't the person I was supposed to be with. I knew that I wasn't the person I was meant to be."
RYAN ADAMS SAYS HE DOESN'T REMEMBER MARRYING MANDY MOORE BECAUSE HE WAS ON SO MANY PAINKILLERS
Moore met Adams in 2007 when she was 23 years old. The two were married after just one year of dating. In the wake of the allegations coming to light, Moore says that her career took a back seat to her marriage at the behest of Adams.
"I would do little jobs. It's not like I completely stopped working. I would do things here or there, but it became abundantly clear while I was working, things would completely fall apart at home," she explained to Maron. "I couldn't do my job because there was just a constant stream of trying to pay attention to this person who needed me and wouldn't let me do anything else."
Moore eventually explained that she was the one to blink first, eventually filling for divorce from Adams in 2015. She previously discussed the relationship following the bombshell report from the New York Times.
CLICK HERE TO GET THE FOX NEWS APP
"Speaking your truth can be painful and triggering but it's always worth it," Moore, 34, captioned an unsmiling photo on Instagram. "My heart is with all women who have suffered any sort of trauma or abuse. You are seen and heard. #sisterhoodforever."