Madonna's Adoption Ruling Delayed Until Friday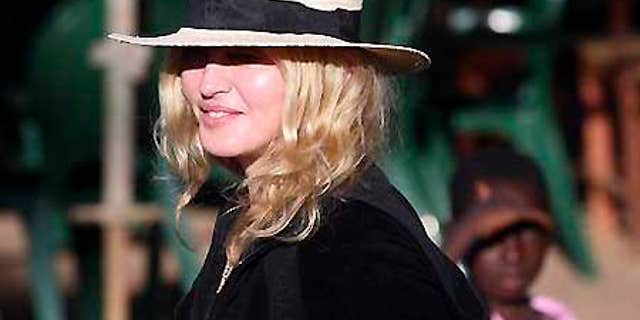 NEWYou can now listen to Fox News articles!
LILONGWE, Malawi – A Malawian judge held a closed-door hearing Monday on Madonna's application to adopt a second child from this southern African nation but delayed ruling on the matter until Friday, a court official said.
Child advocacy groups, meanwhile, renewed their criticism of the adoption, saying Madonna was acting like a rich "bully."
Madonna spent about an hour in court Monday in the Malawi capital of Lilongwe. Court official Thomson Ligowe confirmed that Madonna's adoption application was adjourned until Friday but said he could not reveal any more details.
Monday's court docket listed only the child's name — Chifundo James, which means "Mercy" in a local language.
PHOTOS: Click here for photos of Madonna in Malawi.
A Malawian welfare official and another person involved in the proceedings say the girl is about 4 years old. The girl's father is believed to be alive but no other details were available. They spoke on condition of anonymity because the case is considered sensitive.
The girl's unmarried 18-year-old mother died soon after she was born, according to an uncle, John Ngalande.
Madonna has not commented on the adoption application and did not speak to reporters Monday morning.
The adoption of her 3-year-old son, David, whom she met at a Malawian orphanage in October 2006, was finalized last year.
Children's advocacy groups have accused Madonna of wielding her wealth and influence to circumvent a Malawian law requiring an 18- to 24-month assessment period before adoption. David's adoption was a trying process for the singer, who has said the storm of criticism hurt.
Still, advocacy groups kept up the pressure Monday.
"We feel Madonna is behaving like a bully," said Undule Mwakusungura, chairman of the Human Rights Consultative Committee, a coalition of non-governmental organizations. "She has the money and the status to use her profile to manipulate, to fast-track the process."
Other Malawians say they support Madonna's effort to adopt the little girl.
"We are blessed for what Madonna is doing here," said E. Ngulinga, among the onlookers outside the courthouse Monday.
"That baby is going to have the advantages of going to school and of becoming someone," he said. "Here it is very difficult."
Ngulinga said he hoped the girl and David would return when they were older to help Malawi, an impoverished country where 14 percent of adults are infected with the virus that causes AIDS. The U.N. estimates that half of the 1 million Malawian children who have lost one or both parents have been orphaned by AIDS.
If the latest adoption goes through, Madonna, who is single, would become a mother of four. She has an 8-year-old son, Rocco, with her ex-husband, the British film director Guy Ritchie, and a 12-year-old daughter, Lourdes, from a previous relationship.
Madonna and all three children stopped Monday at the Mphandula child care center, 30 miles (50 kilometers) from Malawi's capital.
The pop star showed up wearing camouflage trousers and big black boots with her hair in a ponytail. She was accompanied by Lourdes, David and Rocco.
David held his mother's hand as they toured the facility and was later given a cowskin guitar as a gift, and he pretended to strum the strings.
Earlier, David spent 2 1/2 hours with his biological father at an exclusive lodge where the pop star is staying.
"I was very happy to see him," the father, Yohane Banda, told The Associated Press, adding that David did not recognize him. "He asked me who I was."
David's mother died when he was a month old. His father has said he believed he could not care for him alone, and that placing the boy in an orphanage was the best way to ensure his survival.
On Sunday, Madonna and Lourdes visited the village of Chinkhota. Madonna spoke to residents there and looked over drawings for a new school.
Madonna first traveled to Malawi in 2006 while filming a documentary on the devastating poverty and AIDS crisis. Her Raising Malawi organization, founded in 2006, raises funds to provide food, shelter, education and health care for children.
Last year Madonna was inducted into the Rock and Roll Hall of Fame, passed Elvis Presley as the star with the most top ten hits in Billboard history and staged an immensely successful "Sticky & Sweet" world concert tour.