Loretta Lynn, Luke Bryan, Eric Church and Alabama receive ACM honors
Miranda Lambert made her first television performance at last night's ACM Honors at the Ryman Auditorium.
The newly single singer honored Loretta Lynn by performing one of her more controversial songs about divorce, "Rated X."
"That was one that I sang and a lot of the disc jockeys banned because they thought it was going to be really bad," Lynn said as she received the Crystal Milestone Award for her 50-year country music career. "And as they listened to it, they thought, 'Hey, This is not as a bad as I thought it was.' So it was a big record for me.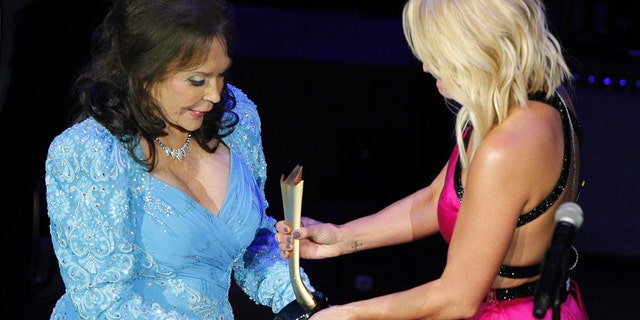 Lynn also planted one on fellow singer Luke Bryan at the 9th annual ACM Honors. Bryan received the Gene Weed Special Achievement Award coming off a two-week ride atop the Billboard 200 chart with his new album, "Kill the Lights."
"I got a kiss from Loretta, so I am still pretty excited about that," Bryan said after getting a smooch from the coal miner's daughter while on the red carpet prior to the event.
"It's an amazing year," Bryan said. "I have been blessed that every year in my life for the past several years have been even bigger than the last. It's fun to come out and celebrate nights like this where even more important people in the industry get recognized."
Bryan, Lynn, Eric Church and the band Alabama were all honored by their peers at the special event in Nashville, Tennessee. The stars were celebrated with performances by Lambert, Jason Aldean and Kacey Musgraves.
Holly Williams, daughter of Hank Williams Jr., sang "Like Jesus Does" by Church, who received the Jim Reeves International Award, and Aldean performed a medley of Alabama songs. Alabama received the Career Achievement Award.
"I have covered a lot of Alabama songs over the years in the clubs, and they are one of the main reasons that I am in the music business and wanted to do this for a living," Aldean said.
The Associated Press contributed to this report.