Logic, U2 slam Trump's alleged 's---hole countries' comment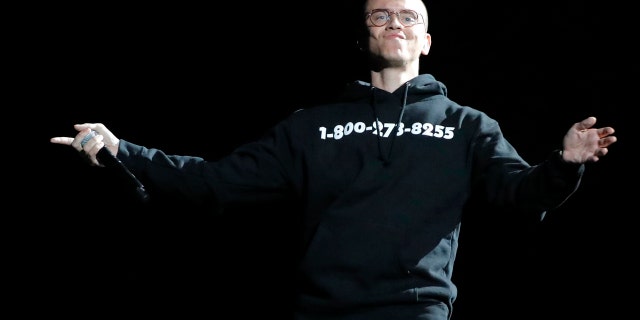 NEW YORK – The 2018 Grammy Awards was a platform for politics, but political performances by U2 and Logic stood out as the stars addressed everything from Trump's s---hole countries to the #MeToo movement.
U2 performed their new single "Get Out of Your Own Way" on a barge overlooking the Statue of Liberty. Their performance was shown on the Grammy screens with the band's frontman, Bono, shouting, "Blessed are the s---hole countries, for they gave us the American Dream."
The legendary band's new single recently made headlines for its controversial music video featuring President Trump and the Ku Klux Klan marching outside the White House.
Later on, rapper Logic took the stage and performed his hit single "1-800-273-8255." The song features the number for the National Suicide Prevention Lifeline in its title.
In his performance of "1-800-273-8255," Logic also further combated Trump's word and said to the crowd, "To all the beautiful countries, filled with culture, diversity and thousands of years of history — you are not s---holes!"
After the audience's applause, the rapper added, "And lastly for those who fight for equality in a world that is not equal, not just, and not ready for the change we are here to bring, I say unto you: Bring us your tired, your poor and any immigrant who seeks refuge, for together we can build not only a better country but a world that is destined to be united."
The 28-year-old singer told Fox News ahead of the performance he was unaware of how impactful his single would be.
"I had no idea at what so ever that this could have ever gotten to be as big as it is. No, not at all. Never," he said on the red carpet at New York City's Madison Square Garden. "Before this, you know, I was an artist who was known and recognized – especially in the hip-hop community, but releasing this song and seeing the impact that it's had – on pop culture in general, I could have never dreamed of it."
Logic, who sported a Time's Up pin on his suit jacket, also addressed the #MeToo movement and sexual harassment within the industry.
"Everybody and anybody should be supporting this movement," he explained. "I'll say this, what's happened in Hollywood is whatever, but... all others that have been exposed are in other places of entertainment – music – everything. Every predator deserves what they deserve period."
When asked about Trump's current Twitter war with Jay-Z, Logic said, "A lot of people have had an impact on the president like that and it's just one of those things where if he doesn't agree with somebody – he says what he says and that's cool, but we know the truth."