Kristen Stewart cheating photos could fetch $300K, but not from US Weekly, expert says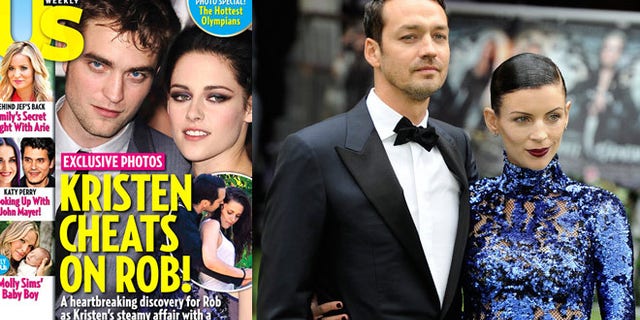 Photos of "Twilight" star Kristen Stewart canoodling with Rupert Sanders, the very married director of her last film "Snow White and the Huntsman," have likely fetched "at least $250,000, maybe $300,000 on the high end" for the paparazzi agency involved, one expert tells FOXNews.com.
But FameFlyNet, the agency that took the juicy snaps of Stewart and Sanders, may not see that six-figure check for a while.
"If it's an assignment, there's not really a mega-money negotiation in advance (with the magazine)," explained Randy Bauer, owner of one of the world's top paparazzi agencies, Bauer-Griffin. "There's an understanding that the photo agency or the photographer will have the back end sales of the pictures worldwide, and that's where they'll make their money, in exchange for the information (the magazine gives them about the stars' location)."
Bauer said he heard that US Weekly assigned FameFlynet to follow Stewart and Sanders on a tip that the two were getting busy behind closed doors, or as it looks now, even out of doors.
"From what I heard, it was an assignment, the magazine was actually working the story," explained Bauer. "(The story) didn't come from the photographers, it was the other way around: it went editorial to photo, as opposed to photo to editorial."
Bauer said a typical assignment pays a photographer a day rate around $500.
"For a story of this magnitude, with that kind of information, I would think that (the magazine) would want to dedicate at least a week," to trailing Stewart and Sanders, said Bauer, which comes out to a fee of about $3,500 per photographer. "Sometimes the pay (for a photographer) wouldn't be anything more than (a day rate). But then the magazine uses the tactic of, 'Well, yes, we're giving you a relatively small amount of money for such a big story, but you're going to make several hundred thousand dollars in your other markets,' so it's in the photographer's best interest to take the job."
A top celebrity editor agreed with Bauer's scenario, telling FOXNews.com: "From what I understand, Us Weekly had been on the story for a while. They had a tip that Kristen was cheating on Rob with her director, so not only did they have photogs on Kristen, they had photogs on Rupert as well."
Scott Cosman, owner of FameFlyNet, told the Los Angeles Times that a lone photographer was trailing Stewart as she met Sanders in her Mini Cooper on July 17. The photographer did not recognize Sanders, but knew one thing for sure–that the scruffy, middle-aged man was definitely not Stewart's boyfriend and "Twilight" costar, Robert Pattinson.
Soon enough, the 22-year-old megastar and the 41-year-old director and started "pawing each other like teenagers," in the car and the paparazzo called the agency for backup. Three additional photographers headed up to Pacific View Trail, a street in Los Angeles not far from the Hollywood sign, where they snapped away at the now not-so-secret rendezvous.
The Times reported that FameFlyNet "decided not to shop the pictures to multiple outlets," instead opting to sell the snaps directly to Us Weekly, because they had "a big budget and would pay a premium amount" for the photos.
Us Weekly declined comment, while Cosman did not reply to a request for comment for this story. Cosman did tell FOX411's Pop Tarts column that it took him "a few days to sell the (Stewart/Sanders) photographs, and we are still selling them now as interest is very high."
Soon after the photos were published in Us Weekly, Stewart quickly issued an apology for her "indiscretion" with Sanders to People magazine.
"I'm deeply sorry for the hurt and embarrassment I've caused to those close to me and everyone this has affected," Stewart said in a statement released on July 25. "This momentary indiscretion has jeopardized the most important thing in my life, the person I love and respect the most, Rob. I love him, I love him, I'm so sorry."
Sanders, who is married to Stewart's costar in "Huntsman," former model Liberty Ross, issued his own apology just hours later, telling People magazine: "I am utterly distraught about the pain I have caused my family. My beautiful wife and heavenly children are all I have in this world. I love them with all my heart. I am praying that we can get through this together."
In any case, Us Weekly made no apologies for their scoop.
"There was no question when we saw those pictures that this was going to be one of the biggest stories of the year–if not the biggest," Us Weekly's entertainment director, Dina Sansing, told the Times.
Bauer agreed, but said that five years ago, when the tabloid wars were at their height, photos for such a lurid story would have been worth even more.
"If it was a few years ago, say from 2005-2007, you could double that figure, maybe half a mil," Bauer said.