Kristen Bell finds shelter for actress' family waiting out Hurricane Irma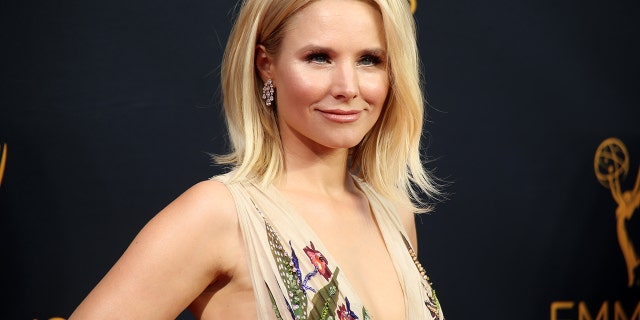 NEWYou can now listen to Fox News articles!
Talk about being saved by the Bell.
Actress Kristen Bell has helped another family find shelter in the face of Hurricane Irma.
The "Frozen" star, who is waiting out the storm in Orlando, Florida while she films her upcoming movie "The Feather," helped secure shelter for fellow actress Jennifer Carpenter's grandmother and aunt.
Carpenter, best known for her role on "Dexter," tweeted a picture of her family members thanking Bell for "finding them a way out."
"Gma&aunt were ready2 wear helmets N closet under eye of #HurricanIrma til @IMKristenBell found them a way out," Carpenter shared on Twitter on Saturday.
Bell also managed to secure a hotel room for actor Josh Gad's familyafter they were "stranded in Florida."
Gad thanked Bell on Instagram for getting his parents, brothers sister-in-law and niece and nephew a room at the Orlando hotel Bell is staying at.
"So @kristenanniebell literally saved my parents and my entire family tonight from #hurricaneirma," Gad wrote on Instagram Saturday. "When they were stranded in Florida, she got them a hotel room at her hotel in Orlando and saved them...they don't make them like this girl. Thank you Kristin. You are truly an angel sent from above."
Bell told "Good Morning Sacramento" it's "sad that it takes a natural disaster to bring out the best in people" but she's thrilled to see everyone pitch in.
"People decided to bunk up together," she told the morning show which her father is the news director of. "We did a little room switching...we got, I thin, 13 [Gad] family members come here last night and I have other friends from LA that did the same thing this morning...we're all sleeping together and it's going to be a giant slumber party."
When Bell wasn't busy rescuing her friends' families, she visited an Orlando middle school which was being used as a shelter.
The 36-year-old actress shared videos of herself singing for those waiting out the storm.