Khloe Kardashian's ex-husband Lamar Odom 'would absolutely get back together' with her, report says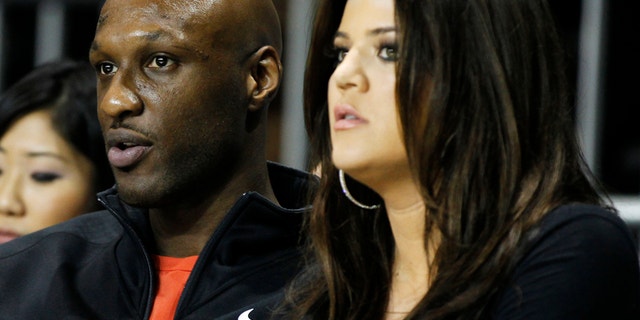 Khloe Kardashian's ex-husband, Lamar Odom, is apparently concerned about the reality star after reports surfaced that her boyfriend and soon-to-be father of her child cheated on her.
The former basketball star was once labeled a cheater himself, but has since owned up to his past mistakes.
"[He realizes] he wasn't the best person he could be while they were together," a source told Us Weekly on Wednesday.
Kardashian famously ended her four-year marriage with Odom in 2013 after discovering he was cheating. Their divorce was delayed after Odom nearly died following an overdose at Nevada's Bunny Ranch brothel. The pair eventually finalized their divorce after Odom recovered in 2016 — the year Kardashian started dating current beau, Tristan Thompson.
TMZ recently released videos of Thompson appearing to cheat on a pregnant Kardashian with several women back in October 2017 —and the news has not settled well with Odom, who is apparently "very concerned" about his ex-wife.
KHLOE KARDASHIAN'S BOYFRIEND TRISTAN THOMPSON ACCUSED OF CHEATING: TIMELINE OF THEIR ROMANCE
"Lamar would absolutely get back together with Khloe," the source told the magazine, adding that he's considered contacting the 33-year-old.
The former NBA player plans to hold off for now, as a nine-month- pregnant Kardashian prepares to give birth in Ohio.
"He wants to call her but doesn't have a phone number for Khloe," the source added. "He could call Kris, but doesn't want to intrude because she is about to give birth."
The Kardashian sisters reportedly encouraged Khloe not to date another athlete after what happened with Odom.
"Tristan is the young hot star of one of the hottest teams in the NBA," the sisters apparently warned.
But Kardashian's relationship with Thompson was hot and heavy from the beginning.
KHLOE KARDASHIAN'S FRIEND SEEMINGLY ROASTS TRISTAN THOMPSON'S ALLEGED CHEATING ON INSTAGRAM: 'SHOTS FIRED'
The pair started their relationship around September 2016. By June 2017, Kardashian revealed they had discussed "starting a family." The couple confirmed, after much speculation, that she was pregnant in December 2017.
Kardashian has not yet commented publicly on videos that purportedly show Thompson cheating on her, though reports say she went "ballistic" when she heard the news.
She's due any day now and still plans to give birth in Ohio, where Thompson is based.
Fox News' Tyler McCarthy contributed to this report.