Kelsey Grammer mourns 'Frasier' co-star John Mahoney: 'He was my father'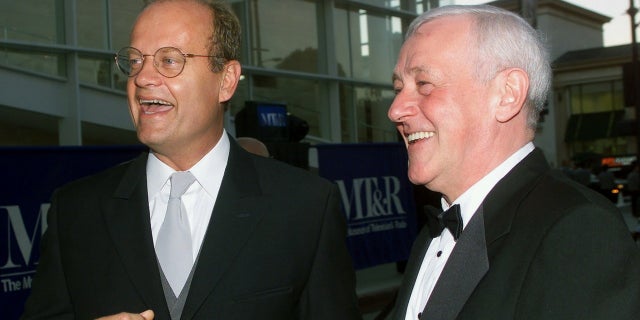 NEWYou can now listen to Fox News articles!
Kelsey Grammer mourned his "Frasier" co-star John Mahoney, who died Sunday at age 77.
Grammer told "Entertainment Tonight" he "loved" Mahoney, who played his father on the long-running NBC sitcom.
"He was my father," Grammer said. "I loved him."
'FRASIER' STAR JOHN MAHONEY DEAD AT 77
Mahoney died Sunday in Chicago after a brief hospitalization. The cause of his death was not immediately announced.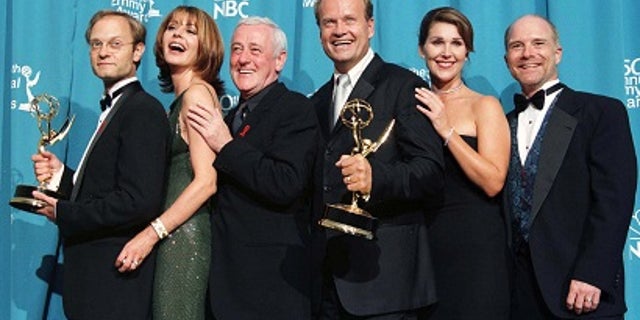 Mahoney starred as Martin Crane for more than 10 years and received two Emmy and two Golden Globe nominations for his role. Grammer portrayed his son Frasier Crane, a psychiatrist who lived in Seattle. Martin Crane moves in with Fraiser after he is forced to retired as a police detective after being shot in the line of duty. His dog, Eddie, a Jack Russell Terrier, was his best bud.
'FRASIER'S' JOHN MAHONEY TALKS ABOUT BEATING CANCER TWICE IN ONE OF HIS FINAL INTERVIEWS BEFORE HIS DEATH
Mahoney also served in the U.S. military and was an English teacher at Western Illinois University. He was born in Blackpool, England, but moved to the United States and became an American citizen in 1959.
In one of his last interviews before his death, Mahoney spoke with Fox News about his time on "Frasier" and beating cancer twice.
"When I left England to immigrate to the United States, I didn't think I would ever miss anything more at that time… But it was just as bad to leave 'Frasier' and those friends behind. I can't tell you how close we were every single day for 11 years. We just adored each other and still do."
Though he battled cancer more than once, Mahoney said he would not let his health get in the way of his work.
"I refused to yield to it because I love what I'm doing so much," he reflected. "And I refuse to sit at home and feel sorry for myself. Instead, I just want to get out there and do another job."
Fox News' Stephanie Nolasco contributed to this report.