Kathy Griffin slams Chris Hardwick's 'Talking Dead' return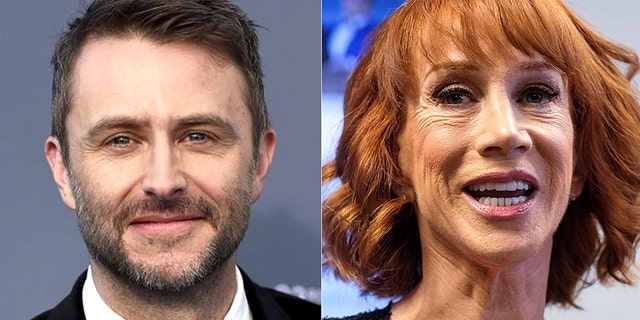 Kathy Griffin slammed Chris Hardwick's return as the "Talking Dead" host following an AMC investigation that stemmed from claims the comedian's ex-girlfriend, Chloe Dykstra, made accusing him of sexual assault and emotional abuse.
Griffin reacted Wednesday to the news about Hardwick by tweeting: "F--- THIS!!!"
AMC announced Hardwick will be back hosting "Talking Dead" and "Talking With Chris Hardwick" after the company conducted a comprehensive assessment with Ivy Kagan Bierman.
"We take these matters very seriously, and given the information available to us after a very careful review, including interviews with numerous individuals, we believe returning Chris to work is the appropriate step," AMC said in a statement, according to the Hollywood Reporter.
CHRIS HARDWICK TO RETURN TO AMC AFTER SEXUAL ASSAULT CLAIMS
Hardwick's investigation began after Dykstra said in a Medium essay her former boyfriend, believed to be Hardwick, had emotionally abused and sexually assaulted her. In the essay published June 14, Dykstra accused the ex-boyfriend of pressuring her into sex and in her career, which she says was ultimately derailed.
The 46-year-old host denied he sexually assaulted Dykstra during their 3-year relationship, though admitted the time they spent together "was not perfect."
JAIMIE ALEXANDER PETITIONS TO BRING CHRIS HARDWICK BACK TO TV
On Wednesday, several people also criticized Griffin for her disapproval of Hardwick's return. A Twitter user said Dykstra should come forward with evidence to prove the disturbing allegations she made.
Griffin responded to the tweet: "No, actually she doesn't. But, go on with your rapey tendencies. I guess I'm the only one to check your ass, boy."
Some users also said Hardwick deserved due process.
"There is a reason for due process. Also, this has nothing to do with you. The truth prevailed. Chris is innocent and a good man. Try looking at facts and spreading love, compassion, and understanding. If you can't, then go project your upset and nasty comments somewhere else," one person wrote.