Kathy Griffin dumped by Squatty Potty, lambasted by Trump family over photo with bloody head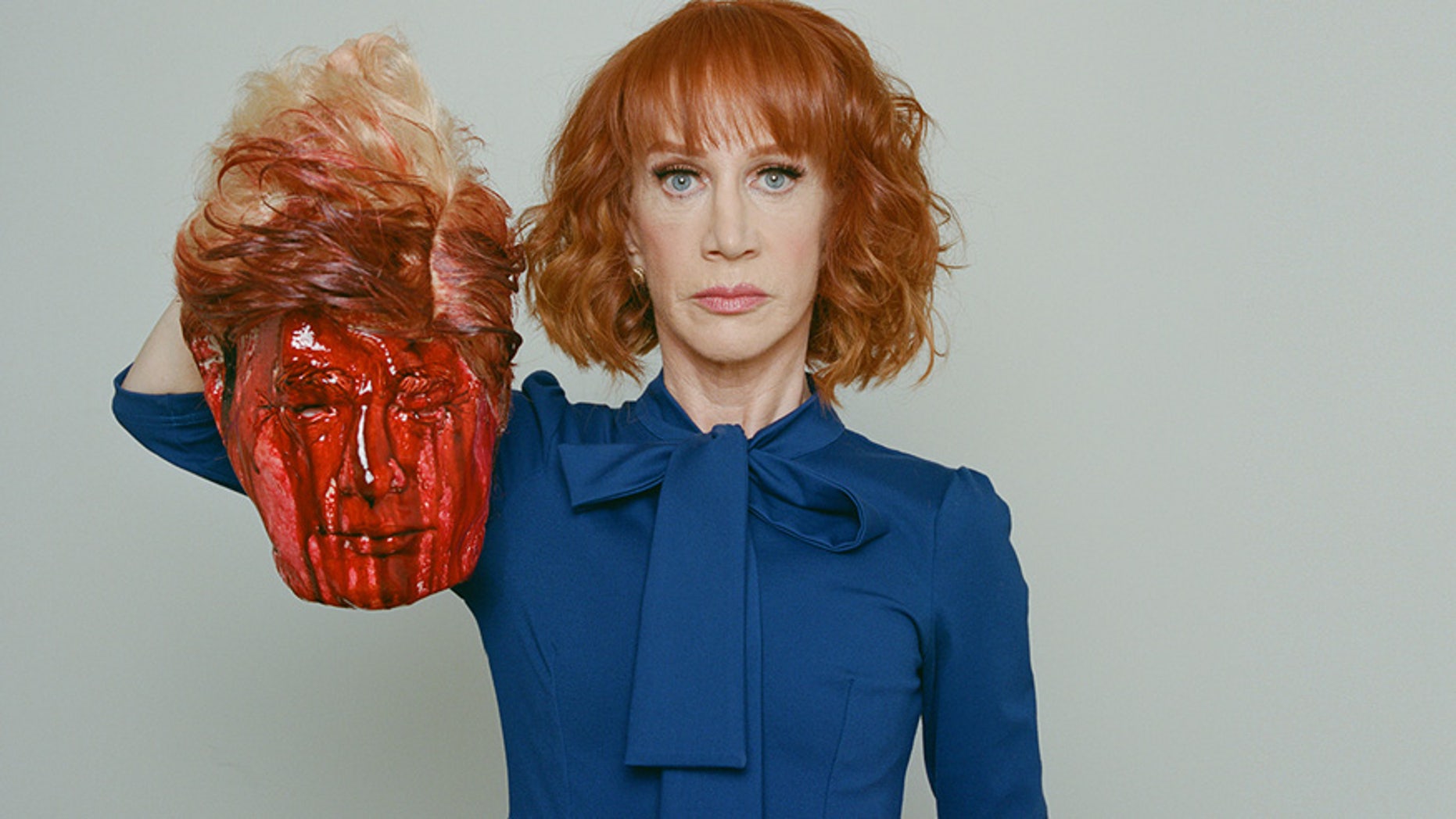 Kathy Griffin's attempt at a joke proved to be no laughing matter.
President Donald Trump responded to the 56-year-old comedienne's recent photo shoot with controversial photographer Tyler Shields where she's depicted holding a bloodied mask of the 70-year-old:
His son, Donald Trump Jr., also took to social media to comment on the "disgusting" image:
Squatty Potty announced Wednesday that it has cut ties with Griffin.
"We were shocked and disappointed to learn about the image Ms. Griffin shared today, it was deeply inappropriate and runs contrary to the core values our company stands for," wrote CEO Bobby Edwards in a statement sent to Fox News. "In response, Squatty Potty has suspended its ad campaign featuring Ms. Griffin. We have acted swiftly and decisively to demonstrate our commitment to a culture of decency, civility, and tolerance."
KATHY GRIFFIN APOLOGIZES FOR PHOTO SHOOT
The company previously announced its partnership with Griffin on May 10 and launched a commercial featuring the spokeswoman.
Squatty Potty, which designs bathroom products, is a small family business based in Utah that was previously featured on "Shark Tank" and is well-known for its viral social media ad campaigns. Edwards revealed the company has sold more than four million products in the U.S. to date.
However, Griffin's troubles don't end there.
TMZ reported Wednesday the gory photo has allegedly caught the attention of the Secret Service. While the federal law enforcement agency did not directly cite the image in any of its recent tweets, it did respond to Twitter users who reported the shocking picture online:
The Secret Service also issued a warning that may have hinted at the image:
Law enforcement sources told the celebrity gossip site the Secret Service has launched an investigation into "the circumstances surrounding the photo shoot."
Entertainment Weekly also reported on Tuesday that CNN has expressed disapproval of Griffin's gory photo and said it is "evaluating" whether she will continue to participate in the network's annual New Year's Eve coverage.
"We found what she did disgusting and offensive," a CNN spokesperson said in a statement. "We are pleased to see she has apologized and asked that the photos be taken down. We are evaluating New Year's Eve and have made no decisions at this point."
Griffin has co-hosted the show for 10 years with television personality Anderson Cooper, who also denounced the stunt:
Griffin admitted Tuesday she "went too far" on her latest photo shoot with Shields. In a Twitter post, she said the image "is too disturbing" and "it wasn't funny."
Shields told Fox News on Tuesday that Griffin was hoping to create a bold message.
"Kathy and I are friends and we work together before, so when we started doing this shoot, she said, 'I'd love to do something political. I'd love to make a statement,'" he explained. "We kind of figured out what would be the best image to make out of that."
Shields added the image was meant to serve as art and he's aware that it could make some viewers uncomfortable.
"That's what art is meant to do," he said. "Some people look at it and they love it. Some people look at it and they hate it… I understand there are going to be people that hate this. It's a very touchy subject… but this is not real. We didn't kill anybody nor do I feel anybody should be killed. It's no different from a movie. It just happens to be a still image."
As for his recent collaboration with Griffin, he doesn't regret it.
"I can't speak for her, [but] I know she loves to stir the pot," he said. "For me, I love the idea we have freedom of speech. The fact that I'm allowed to make an image like this says a lot. To me, that's a powerful thing… nobody's killed me for this image so it's not that bad. I love Kathy and I hope they let me visit her in Guantanamo."