Katharine McPhee and David Foster clap back at relationship haters: 'We understand each other'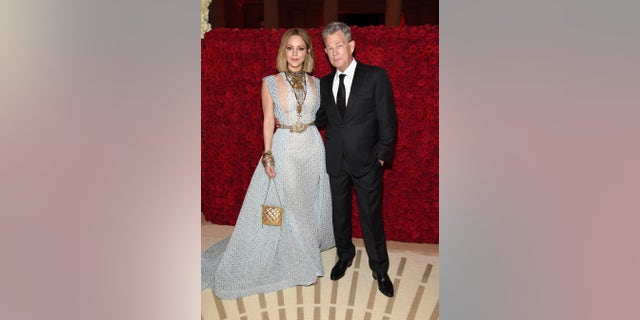 Katharine McPhee and David Foster tune out the world when it comes to criticism over their relationship. The famous music producer and his now fiancee, who is 34 years his junior, are speaking out about their romance and how they don't care what people think.
"We genuinely love and respect each other and have for a very long time," McPhee said of Foster in a new interview with People. The newly-engaged couple met for the first time in 2006 when the music master served as a mentor for the then "American Idol" contestant. After gaining fame post "American Idol," Foster helped to produce McPhee's first single.
"She didn't catch my eye on the first day because I was so busy trying to do my job," Foster admitted. "But, the reality is that in the last 12 years I've always had a connection with her."
The "Smash" star clarified that their relationship began simply "on a friend basis" and both were shocked when their friendship transformed into more.
"There are just a lot of things when you look at the history of our relationship, neither of us could have written it," McPhee explained. "I would never have imagined that this would be our future together."
And the couple, who have always had the love of music in common, said that the "music industry" is what continues to bond them.
"We understand each other," Foster said.
The couple, who announced their engagement in July, recently returned from a romantic getaway in Italy where they attended the glamorous Celebrity Fight Night charity event where McPhee performed "I Can't Help Falling In Love with You" with Andrea Bocelli.
According to People, the 34-year-old singer didn't take her eyes off her fiance during the rendition of the classic song.
Prior to the performance, Bocelli reportedly told Foster, "A few years ago I told you she was the one," to which the 68-year-old musician said, "You were right."
And while the couple is often targeted for their 30-plus-year age gap, both Foster and McPhee have learned to make light of the topic.
Recently, the soon-to-be stepmom joked with Foster's daughter, Erin, on social media about the relationship with her father.
The 34-year-old singer posted an Instagram photo in August of herself on her romantic vacation to Stuart Island, British Columbia with fiance David Foster that prompted a response from the music producer's daughter.
"FEELS LIKE I COULD HAVE BEEN INVITED ON THIS BEAUTIFUL TRIP," Erin, who is just two years older than McPhee, commented on the post.
The "American Idol" alum responded to her future stepdaughter, "@erinfoster mommy and daddy need alone time."
The musical couple's upcoming nuptials will mark the fifth marriage for Foster and the second for McPhee. But despite previous relationships, the two plan on making their love last.
"He has things to learn from me and I have a lot of things to learn from him. So I think we have a nice yin and yang," McPhee concluded, "It doesn't make sense to a lot of people, but it does to us."
Fox News' Katharine Lam contributed to this report.