Kardashian Sisters: We Didn't Plan to Be Celebrities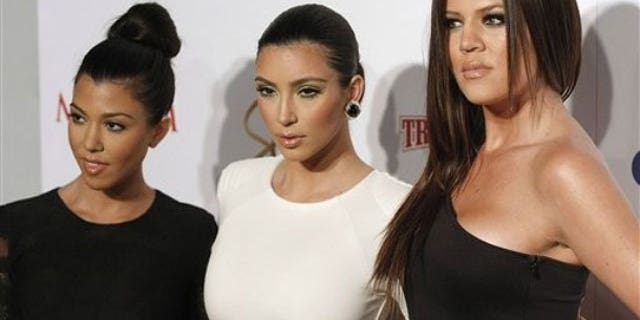 NEWYou can now listen to Fox News articles!
LOS ANGELES – When "Keeping Up With the Kardashians" first debuted in 2007, Kim Kardashian was the star, whose claim to fame was doing a sex tape with a rhythm and blues singer named Ray J.
Now, the sex tape is old news and Kardashian is famous for her fashion and beauty.
But other Kardashians have plunged into the star light: Sister Khloe Kardashian's recent wedding special grabbed 3.2 million viewers; and tabloids and blogs followed every step of sister Kourtney Kardashian's pregnancy. (She and boyfriend Scott Disick are parents of a boy, born Monday.)
Now the whole Kardashian clan has returned to E! with a fourth season of their reality show. Kourtney and Kim recently talked about family, fame and sports in an interview.
SLIDESHOW: The Lovely and Talented Kim Kardashian
AP: How have your lives changed since the first season?
Kim Kardashian: "I think even from season three to season four we've all changed. We've all grown so much closer together, so this season I think you'll definitely see that and we've added so many new family members to the mix now. (Kourtney Kardashian's son, Mason Dash Disick; Khloe Kardashian's husband, Los Angeles Laker Lamar Odom.
Khloe Kardashian: "Our dynamic with each other has changed. I think that's on rotation every month. We're friends because we're sisters but I think we rotate on which one's our best friend."
Kim Kardashian (to Khloe): "Who's your best friend this week?"
Khloe Kardashian: "You because I'm with you more this week."
Kim Kardashian: "I've always wanted to hear that!"
SLIDESHOW: The Kardashian Sisters
AP: Did you aspire to be in show business?
Kim Kardashian: "I don't think we ever thought of being in the entertainment business. We started having our clothing stores six years ago before the show and we've always been really fashion oriented. ...The show opportunity just happened and we're just having so much fun."
Khloe Kardashian: "Also, as kids all of our friends where either, like, Lionel Richie's daughter or Rod Stewart's kids so we all grew up with a pretty cool clan of kids and parents. So ... I feel like we've always been, like, ... in the entertainment industry -- just not well known."
SLIDESHOW: The Lovely and Talented Khloe Kardashian
AP: Khloe, you're married to a pro basketball player. Kim, you're dating a pro football player. Are you sports fans?
Khloe Kardashian: "I am so into basketball. I won't watch a regular game. But when I see Lamar play, I'm so into it. I cheer and I get mad and if he gets fouled or they call a technical it's so crazy. Like even that I know these words it's bizarre. And I love to watch football."
AP: Are the guys in your family really excited you have the sports connections?
Khloe Kardashian: "When I met Lamar the first night I was with our brother Rob. Some guy was staring at me and I kept saying, 'You're so rude. You're staring at me' so he could hear me. Rob was like, 'Please be nice. That's Lamar Odom!' He's like the best basketball player.' I was like, 'I don't care he's so rude! (laughter)"'
AP: And fast forward to now and you're married to that guy!
Khloe Kardashian: "And now I'm the one who is obsessed with him! (laughter)"'
SLIDESHOW: The Lovely and Talented Kourtney Kardashian
AP: You have three clothing stores. You're known for your fashion. Have you always been stylish?
Kim Kardashian: "I think if we look back at the things we wore we were like, 'I can't believe I wore that.' But at the time it was stylish. I think we've always been stylish."
Khloe Kardashian: "Kim was always stylish. ... One time for a Prince concert she wore leather pants and a purple tube top and put like purple gems on her face and I remember thinking she was so cool. She's always been a fashionista."
Check out Kim Kardashian on "On the Record With Greta Van Susteren"