Kanye West returns to Twitter with video about mind control
Kanye West returned to Twitter Saturday night after a brief hiatus and posted a video about mind control.
The rapper posted the bizarre rant just days after he met President Trump at the White House and the same night "Saturday Night Live" spoofed the meeting. West initially posted three videos that were just seconds long before posting a fourth video on Periscope that lasted nearly 10 minutes.
"I just want to talk about mind control," West said in the video. "You know, when people try to influence you through social media and try to tell you what to do, or if you post something that's like positive on Instagram it gets taken down if it's not a part of a bigger agenda. That's like mind control. That's the echo chamber. That's trying to control you based off of incentivizing you and based off of you getting enough likes. That's the poison that's happening with social media."
PRESIDENT TRUMP PRAISES KANYE WEST'S WORDS AT WHITE HOUSE: 'THAT WAS QUITE SOMETHING'
West said his IQ score has the vibes of "straight up Sigmund Freud Tesla" and that it hurts him when people try to tell him what to do, adding that it feels like "they're touching [his] brain."
"It's all these people -- black people, people on social media, people trying to control us and make us all monolithic thought. They're trying to control our mind. They're trying to control my mind," West said.
"When someone tries to tell me what to do, tries to tell me what I can wear and not wear, I feel like they're touching my brain," he added. "Imagine you like cut your skull open and somebody like touched your brain with their hand, how that would hurt you. That's how it hurts me when people try to tell me what to do when I'm going from my heart. Try to tell me what to say."
ALEC BALDWIN RETURNS TO 'SNL' TO SPOOF TRUMP-KANYE WEST MEETING IN OVAL OFFICE
The 41-year-old artist also touched on business before claiming "everybody loves Ye" and he is the "best living recording artist."
"The music is the best on the planet. I am the best living recording artist. We, rather, because the spirits flow through me," West said. "The spirit of Fela, the spirit of Marley, the spirit of Pac flows through me. We know who the best. We know."
"…To control my mind. To make me look like I'm crazy to you. I am not crazy. I can ramp up if I suffer from sleep deprivation. I'm about to get some sleep," he continued.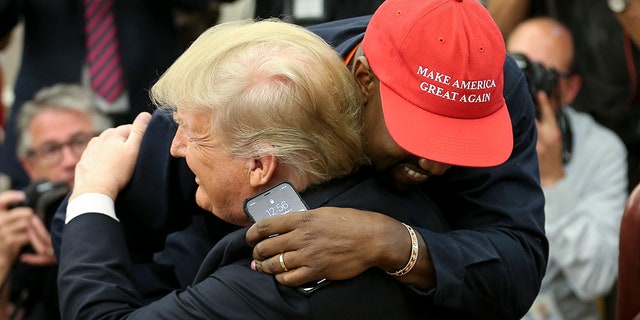 West deleted his social media accounts on Oct. 6 following a slew of criticism he received from a string of controversial comments on Twitter and during his appearances on "Saturday Night Live" and "TMZ Live."
On Thursday, West and Trump held a press conference in the Oval Office, where he discussed Superman, the 13th and Second amendments, North Korea and his budding "Make America Great Again" bromance with the president.
"What I need 'SNL' and liberals to improve on is, if he don't look good, we don't look good. He has to be the freshest, the flyest, have the flyest planes. He has to look good!" West said about Trump. "When we make everything in China and not America, we're cheating on our country."
"SNL" took time in this weekend's episode to mock the Trump-West meeting, with Alec Baldwin reprising his role as the commander in chief.
Fox News' Sasha Savitsky contributed to this report.