Justin Timberlake Mocks Hugo Chavez in SNL Skit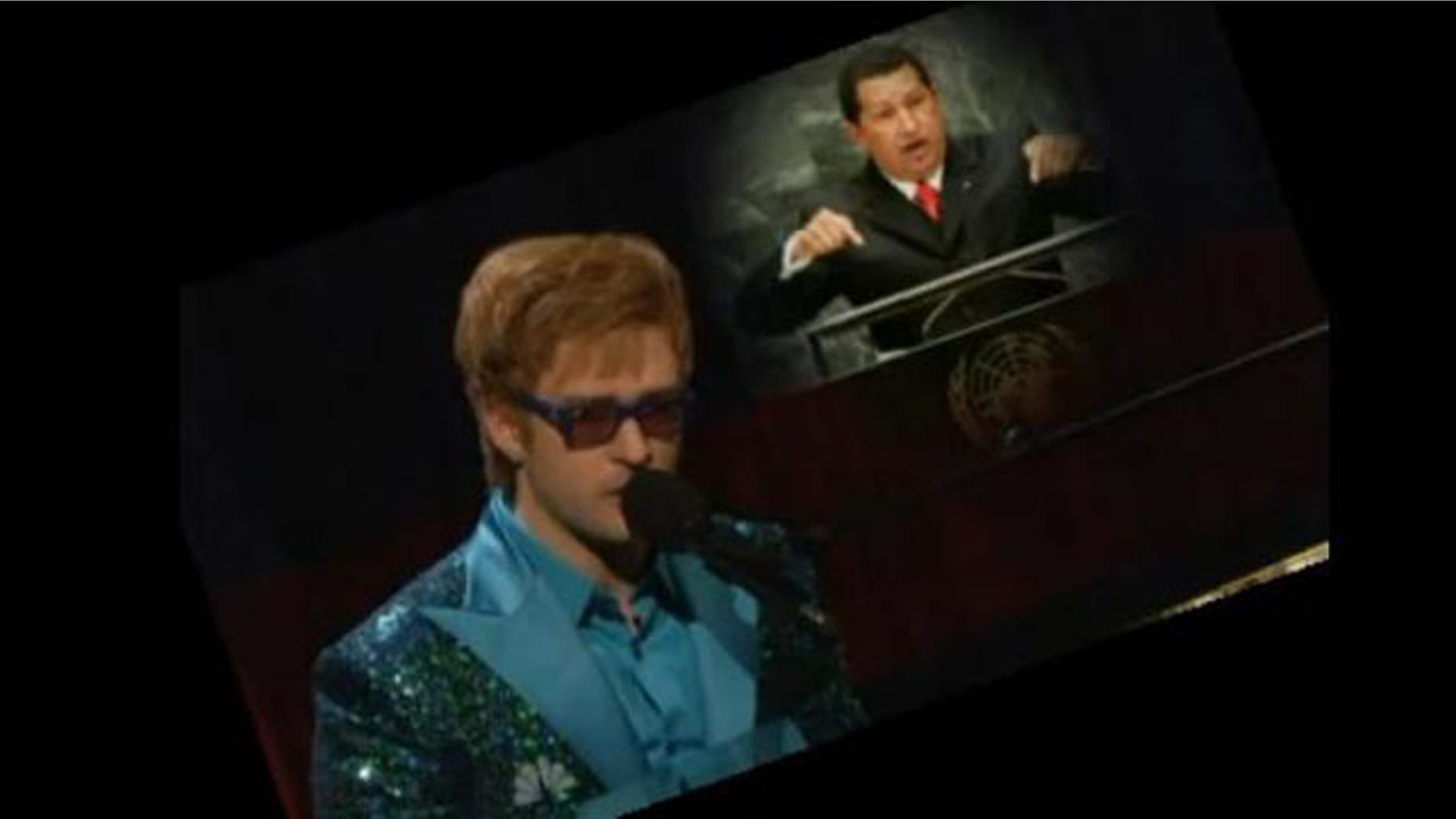 A Saturday Night Live skit ignited a firestorm on Twitter after singer Justin Timberlake appeared to poke fun of Venezuelan President Hugo Chávez's death.
The parody began with funnyman Fred Armison introducing JT in Spanish. The camera then shows Timberlake, who plays a young version of Elton John, decked out in an elaborate sky-blue suit.
"Good bye, Hugo C. you had such great style and panache, you were a man of the people and you liked to wear a sash. You called George Bush the devil when you spoke at UN, you said it smelled like sulphur and you called him Mr. Dancer," Timberlake crooned.
He then made reference to the song Elton John wrote for Princess Diana.
"It seems to me you lived your life like a candle in the wind, if a candle could pull out two pistols at a press conference," he continued. "You said the U.S. caused earthquakes and you outlawed Coke Zero."
Moments after the skit ended there were mixed reactions on Twitter. Some took the spoof lightly while others thought it came off as awkward and insensitive.
"Horrible cold open for SNL. Not cool mocking the dead. shame on justin timberlake for poking fun at Hugo Chavez. #SNL," wrote Shoaib Taimur.
Emmanuel D said: "the stupid parody made by #JustiTimberlake in#SNL is an insult for all #AmericanLatin he's a f***ing d---bag #HugoChavez."
But not everyone had issues with the skit. Daniela Curiel tweeted that "finally someone captured the real 'legacy' of Hugo Chavez in SNL."
Chávez, 58, a controversial socialist leader, died on Tuesday after a long two-year battle with cancer. Chávez, who was president of the South American country for 14 years, was diagnosed with an unannounced form of cancer in 2011 and his health deteriorated rapidly after winning reelection in November.