Justin Bieber's worst moments of all time
Justin Bieber has come a long way since his YouTube days.
His time in the spotlight has been filled with success -- and controversy. Most recently, he accidentally hit a paparazzo with his truck.
The Canadian singer got his big break in 2008 when American talent manager Scooter Braun discovered Bieber by watching his YouTube videos. Since then, Bieber, 23, has been seen as a teenage heartthrob, but also a star who has had outbursts and career-damaging moments.

Here's a round-up of some of Bieber's worst moments in the spotlight:
Singer vomits on stage first night of 'Believe' tour: September 2012
Bieber had a rough start to his "Believe" tour when he threw up in the middle of his performance in Arizona. He admitted it wasn't great "throwing up in front of a bunch of people" and blamed his sickness on drinking too much milk.
Arrives two hours late for London concert: March 2013
Bieber, who was 18 at the time, wasn't the hero fans were hoping for when he arrived almost two hours late for his O2 Arena concert in London.
"They were playing Michael Jackson song, after song, after song - it was so annoying," a fan told the BBC.
Rumors swirled days afterward that the singer was late to his own concert because he was playing video games, then threw a "tantrum."
Left his pet monkey in a German airport: March 2013
Bieber wasn't a great pet owner in 2013. He first announced his new pet in the spring by posting an adorable photo of Mally, the capuchin monkey, on Instagram. But months later, he was forced to pay thousands of euros to an animal shelter after he left the monkey at a German airport. Bieber failed to present appropriate paperwork to customs in time and the monkey was put in an animal shelter in Munich, The Associated Press reported.
Anne Frank 'Belieber' comments: April 2013
Bieber wrote in the guest book at Anne Frank House in Amsterdam: "Truly inspiring to be able to come here.  Anne was a great girl. Hopefully she would have been a Belieber."
The head-scratching note caused international backlash.
Urinating in a mop bucket: July 2013
Beiber was caught on camera urinating into a yellow mop bucket at a restaurant after a night out in New York City. The video was shot early 2013, but was posted in July, TMZ reported.
He then proceeded to spray cleaning liquid on a portrait of Bill Clinton while yelling, "F**k Bill Clinton!" He later seemed to apologize to the former president on Twitter by tweeting: "@billclinton thanks for taking the time to talk Mr. President. Your words meant alot. #greatguy."
Spotted wearing a gas mask in London: February 2013
The 18-year-old seemed to be sporting a new "look" when he opted to wear a gas mask in London. It's still unclear why he was sporting that headgear that raised eyebrows.
Illegally spraying graffiti on wall in Brazil: November 2013
Photos surfaced of Bieber posing in front of a graffiti wall with a spray paint can in his hand in Rio de Janiero. Brazilian police later charged him with illegally spraying graffiti on the wall of an abandoned hotel, the BBC reported.
Bieber was actually allowed to paint a sports facility nearby, but he allegedly chose the wall of the abandoned hotel to avoid fans.
Egging his neighbor's home: January 2014
Bieber, who was 19 at the time, was forced to pay $80,000 to his former neighbor after hurling several eggs at the home. He pleaded no contest to a vandalism charge and was ordered to complete anger management classes, according to the Los Angeles Times.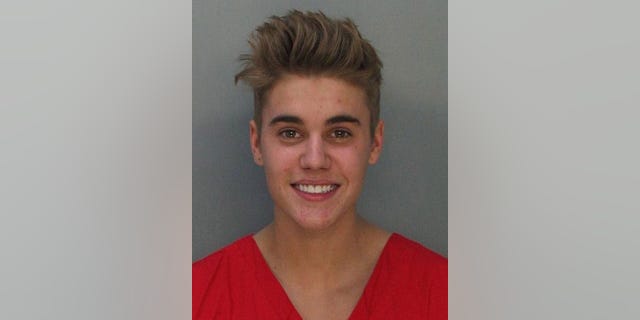 Arrested for a DUI: January 2014
Bieber was arrested in Miami for drag racing and driving under the influence of alcohol or drugs. He rented a yellow Lamborghini and had his friends block traffic on a residential street for him. Police pulled the singer over after he left a club and arrested him after he failed a field sobriety test.
His mugshot -- where he's seen smiling from ear-to-ear -- also made waves.
Orlando Bloom punches him in the face: July 2014
Bloom allegedly punched Bieber in the face at a celebrity-packed restaurant in Ibiza. The spat was rumored to have started because of Bieber's friendly relationship with the actor's then-estranged wife Miranda Kerr.
Storms off stage because of screaming fans: October 2016
Bieber walked off the stage at his Manchester, England, show after he told fans to stop cheering between songs -- and they didn't.
"I appreciate all the support. I appreciate love. I appreciate the kind things. But the screaming in these breaks has got to stop. Please and thank you," he said before exiting the stage.
He eventually returned, but not before angering concertgoers.
Accused of punching fan in face in Spain: November 2016
Bieber allegedly got into a scuffle with with a fan in Barcelona when the individual stuck his had into the singer's car, TMZ reported. Video showed the fan with a bloodied lip.
Canceling rest of 'Purpose' tour dates: July 2017
Bieber abruptly announced the remaining 14 dates of his "Purpose" tour will be canceled "due to unforeseen circumstances." He then apologized for the cancellations and said he's "looking forward to just resting."
Hitting paparazzo with his pickup truck: July 2017
After canceling his "Purpose" tour earlier in the week, Bieber got into another debacle -- accidentally hitting a photographer with his car in Beverly Hills. He was attempting to pull out of a parking spot when the incident happened, police said. Bieber stayed at the scene and helped the photographer out as bystanders watched and recorded the incident.