John Stamos, fiancee Caitlin McHugh expecting their first child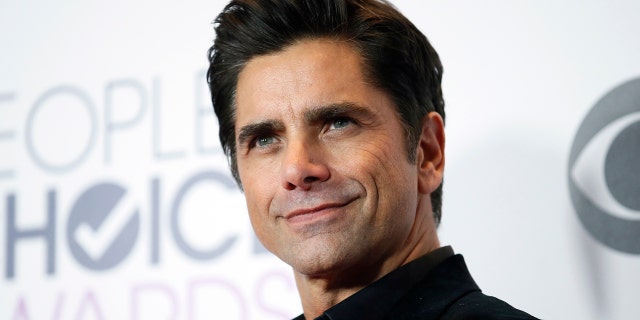 "Fuller House" star, John Stamos is about to have a full house of his own. Stamos, who recently announced his engagement to model/actress, Caitlin McHugh, shared the news with People Magazine that the two are expecting their first child together.
"We have the same morals and the same values, that all clicked nicely. So we said, 'Oh, well, maybe we should have a family,' " Stamos told People.
This will be the first child for the 54-year-old actor and his fiancée, but the baby news doesn't come as a surprise to the newly engaged couple. In a separate online interview with People's Editor-in-Chief Jess Cagle, Stamos told Cagle that he and McHugh had "talked about" having a baby in the past and recently, things fell into place. Stamos also said that McHugh once joked that the two should maybe have a baby before getting married because Stamos is "old."
"The [pregnancy] happened. Then I said, I better have a ring on her finger because it's the right thing to do, and I wanted to marry her anyway," Stamos said to People. "So I called her parents to ask, and it was like, 'You better!'"
Stamos and the 31-year-old McHugh have been together for two years. The couple got engaged on October 22 during a romantic trip to Disneyland. The actor proposed to his now fiancée with a short film composed of romantic moments from animated Pixar and Disney films, that ended with a photo of Sebastian the crab from "The Little Mermaid," holding up a sign that said "just ask the girl."
McHugh said Stamos is the "the biggest, most loving and generous heart of anyone I know."
The actor admitted to always wanting to be a father and told People that he is excited for the next chapter of his life. And while they are sharing the news of their engagement with the world, the couple has decided to keep silent on the sex of their new bundle of joy.
"The look on John's face when I told him we were pregnant was priceless," said McHugh. "It was the look of a man who has wanted a family of his own but wasn't sure it was going to happen for him. Now it is!"
Though Stamos will be a first time dad in real life, the actor is no stranger to fatherhood duties after years of playing Uncle Jesse on "Full House" and acting as a father to the show's twins, Nikki and Alex. Needless to say, Stamos has had his fair share of dad experience.
"I'll be a fun dad. I've been practicing for a long time," he says, joking, "I've done every schtick you can do with a baby on TV … all the bits and jokes and diaper gags. I'll probably just do all that stuff."