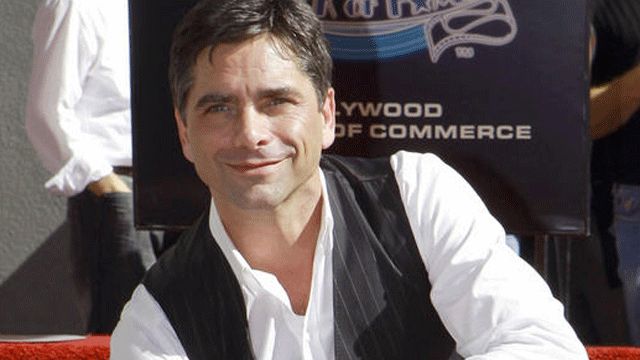 Prosecutors have charged two people with threatening to sell photos of actor John Stamos unless he paid them $680,000. The actor's spokesman said Tuesday that the pictures were benign.
Allison Coss and Scott Sippola were arrested Dec. 3 on an extortion charge at an airport near Marquette, 450 miles north of Detroit. An undercover FBI agent posing as a representative of Stamos had arranged to meet them there.
Stamos' spokesman Matt Polk said there was nothing embarrassing about the images.
"At the conclusion of the investigation and hearing, the photos will be available and the public will be able to see that the photos are simply John posing with fans," Polk said Tuesday.
Stamos, 46, is starring on Broadway in "Bye Bye Birdie." His TV credits include "ER" and "Full House."
In a court document, the FBI identified Stamos as "Mr. X," an actor, whose attorney contacted agents on Nov. 28.
Stamos had received an e-mail from someone identified as "Brian L" threatening to release photos to the news media unless the actor paid $680,000, agent Leslie Hahn said in an affidavit filed in federal court in Marquette.
Stamos met Coss in Florida in 2004 and attended a party with her where pictures were taken, Hahn said.
The FBI got involved by having an agent pose as Stamos' representative and communicate with "Brian L" by e-mail.
Coss and Sippola were released on bond on Dec. 3. Messages seeking comment were left with their lawyers Tuesday.
During a search of a Marquette home shared by the pair, the FBI found pieces of paper with Stamos' cell phone number and the names and phone numbers of three tabloid magazines.
Polk said Stamos would not comment on the case.
"The U.S. attorney and the FBI handled the investigation swiftly and with great expertise," Polk said.