Jodie Sweetin says 'Fuller House' is 'a little bit more adult' than the original series
It may have taken 30 years, but Jodie Sweetin couldn't be more thrilled that the "Full House" franchise finally received an Emmy nomination.
"It was huge for us," Sweetin told Fox News during the Hallmark's Summer TCA party at a private residence in Beverly Hills, Calif.
"This has been a show that has been a fan favorite for 31 years, and people love it, but it's never really been recognized in award ways," the "Fuller House" star, 36, explained.
In July, it was announced that the "Fuller House" reboot was up for an Emmy next month in the Outstanding Children's Program category, marking the comedy series' first major award nomination since the original "Full House" aired more than three decades ago in 1987.
"And now we've got a People's Choice, and a Teen Choice three years in a row, and Kid's Choice awards, and now an Emmy nomination, it's huge," Sweetin continued. "It just feels like such a reward for putting in 30-something years of work on it."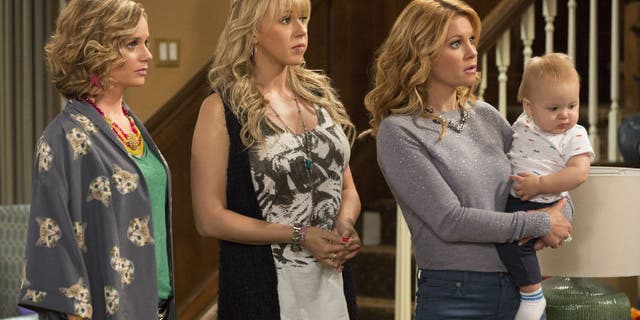 The star is proud of the show's staying power and the loyal fan base the franchise has developed.
"I don't think there's probably a day that goes by that all of us aren't incredibly aware of what it is that we do on 'Fuller House' and how unique it is, and the fact that it is decades later from the original show, [it's] still immensely popular maybe even more so than it was originally. That's pretty incredible," Sweetin said, adding that the cast is also in "awe" of the "amazing popularity of the show."
When asked why she thinks "Full House" didn't see the same recognition that its reboot is getting today, the actress said it may have to do with the fact that the Netflix reboot is "a little bit more adult."
"We have the audience of adults that are my age and [co-star] Candace [Cameron's] age in their late 30s, 40s, who grew up watching us as kids, and now have kids of their own, we can be a little bit more adult," Sweetin explained.
"We can get away with a little bit more," she continued. "We got nominated as a children's show, but it's not completely sugary. I mean we're silly, and we do stunts, and we do all kinds of crazy stuff on the show, but we have that ability to kind of walk the line a little bit, and I don't think the original show ever did because it was almost purely kid and family programming, and it just didn't have 20 years to build up this huge fan base that I think made it really popular today."
Although most of Sweetin's time is spent on the "Fuller House" set, the actress spends any time off with her daughters, Beatrix, 7, and Zoie, 10.
"When I'm not working I have kid time," the mom-of-two shared, adding that her girls "are turning into such interesting creative people, so it's fun to watch them become that."
Along with hanging out with her girls, Sweetin is also a book aficionado, who enjoys reading in her spare time.
"I'm like a huge book nerd," Sweetin admits. "So [one] Sunday, I dove into a book for 3 1/2, 4 hours on my couch, drank some tea, and had quiet time — it was glorious. It doesn't sound super exciting, but I love doing that, and also going to art shows and concerts. So any chance I get to do any outside cultural fun stuff, that's what I like to do."
As for if her little ones will follow in mom's acting footsteps? Sweetin said despite them already appearing on "Fuller House," she's not sure. However, if they did choose to start acting regularly, Sweetin says she'd "absolutely" support them.
"I'd want them to be a little bit older just so that they could have a normal childhood," she explained. "My younger one does martial arts. My older one is in soccer. They love those things. Just be a kid. Do that for a little while, find some other things. The business will always be there, and there will always be an opportunity to get in."