Jimmy Fallon Debuts as 'Late Night' Host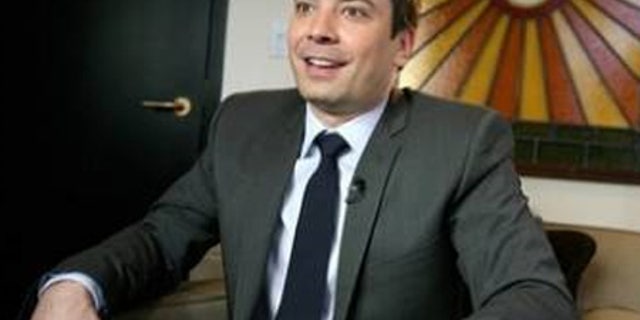 NEW YORK – Almost a year after Jimmy Fallon was named new host of NBC's "Late Night," and 10 days after predecessor Conan O'Brien departed, Fallon made his debut Monday.
Fallon's opening-night guests included Robert De Niro and Justin Timberlake, with Van Morrison as his musical guest.
An hour earlier on CBS, "Late Show with David Letterman" was kicking off some musical excitement of its own: the first of a full week of performances by the superstar band U2. In an unprecedented weeklong booking by "Late Show" U2 is promoting its new album, "No Line on the Horizon."
"It will be interesting to see if they can make it past Wednesday night," Letterman said on Monday's show.
U2's four members also pitched in for some comedy. Letterman said viewers shouldn't get the impression that these are pretty-boy rock 'n' rollers — they're willing to lend a hand if someone needs some help. Then the camera switched to a shot of U2 shoveling snow outside the Ed Sullivan Theater.
Larry Mullen shoveled while smoking a cigarette, which Letterman noted.
"I think there's very little danger of them overdoing it," he cracked.
Later in the show, U2 performed its new song "Breathe."
In his debut monologue, Fallon joked about opening-night jitters with a reference to the weather.
"New York City was hit with a huge snow storm," he noted, "and I woke up this morning and said, `Please, let it be a snow day!'"
Fallon, a former cast member of "Saturday Night Live" with several films to his credit, has tapped a longtime "SNL" hand, Michael Shoemaker, to be his producer. A co-producer is Gavin Purcell, who ran "Attack of the Show," the daily Net-centric news hour on cable's G4 channel.
Lorne Michaels — Fallon's old boss on "SNL" — continues as "Late Night" executive producer.
Other than excerpts from its monologue, the New York-based show, taped Monday afternoon, was not made available to critics before airtime.
But details and glimpses of the Fallon era "Late Night" have been shared with viewers on the show's Web site for weeks.
"I know I'm gonna get reviewed off the first show, as opposed to the first couple of months," Fallon predicted in a recent interview. "`He's no Conan,' or `He's no Letterman' — I just want that to be said, and put out there. Then viewers can relax and watch and enjoy."
Fallon's on-air arrival sets in motion a carefully arranged shift by NBC. O'Brien, who took over "Late Night" from its original host, Letterman, in 1993, is now devoting full time to readying his version of the Los Angeles-based "Tonight" show, where he will land in June.
"Tonight" veteran Jay Leno will return to the air come fall with a weeknight prime-time talk-variety show airing at 10 p.m.