Jets quarterback Mark Sanchez, actress Eva Longoria call it quits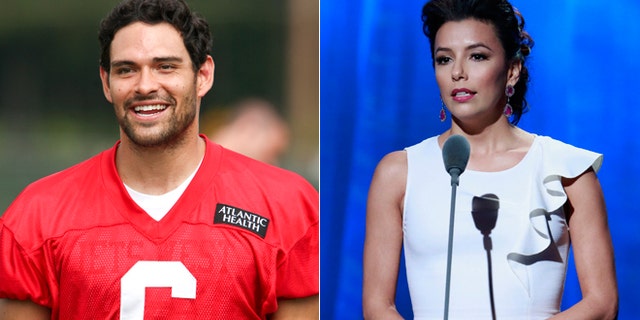 NEWYou can now listen to Fox News articles!
Actress Eva Longoria ended her romance with New York Jet Mark Sanchez last week, and the quarterback is devastated, sources told The New York Post's Page Six.
The 25-year-old NFL star has been telling friends that he and the "Desperate Housewives" star, 37, decided to end things before Sunday's game against the New England Patriots after four months of dating, Page Six reported.
"Mark says he is really upset about the breakup with Eva. He is telling friends he tried everything he could to make her happy, and to make things work between them, but they live in very different worlds," a source said, according to the report.
The source continued, "The problem was Mark is very focused on football, while Eva is a busy businesswoman. She lives in Los Angeles, is doing a lot of philanthropic and political work, and is developing a number of TV shows, including the NBC dating series 'Ready for Love.'"
The couple had been dating since the summer, and were first seen together in June, partying in the West Village. The Post spotted lovely Longoria hanging with Sanchez at an outdoor lunch near his home in Bedminster, NJ, in early September.
A rep for Sanchez said last night, "It was really more about scheduling . . . they will remain close friends."
Click for more from The New York Post's Page Six