Jessica Simpson slammed for dressing four-month-old daughter Maxwell in bikini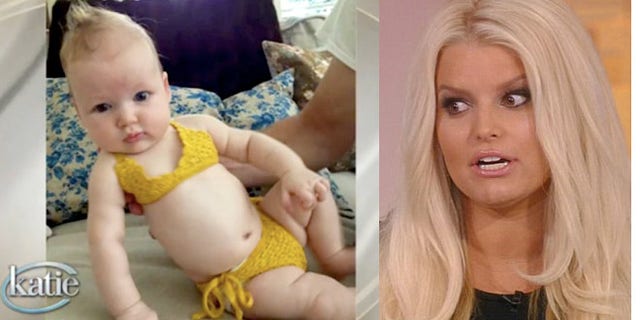 Jessica Simpson strutted back into the spotlight last week with her first interview since becoming a mom on the premiere episode of Katie Couric's new talk show "Katie." However, the follow-up buzz wasn't about her remarkable weight loss and Weight Watchers endorsement, it was whether the featured photo of her four-month-old daughter Maxwell donning a crocheted yellow bikini over her diaper was inappropriate.
"Why does a four-month-old baby need to wear bikinis? Why does she need to cover herself up? Why does she need to highlight and feature her chest? Children are not 'mini-me's,'" human behavior specialist Patrick Wanis, Ph.D., told FOX411's Pop Tarts column. "Mothers are now projecting and transferring their own insecurities and psychological issues onto their children."
Los Angeles-based therapist Dr. Nancy Irwin concurred that the "sexy style bathing suit" bordered on disturbing.
[pullquote]
"People have the right to express outrage and offense. It is not allowing the natural adorableness of this infant to be seen," she said. "She needs no embellishment."
But others have been quick to defend Simpson and that babykini.
"I do think we are going overboard with backlash over baby bikini photos. When mothers dress infants in these outfits they are not intentionally 'sexualizing' them; they are taking cute photos just as any mom does, but just because that photo is seen by millions of people, they shouldn't have the responsibility of protecting the public's feelings about their family pictures," said Sheila Hageman, body image expert and author of "Stripping Down." "It is not fair to expect higher standards from our celebrities to protect our personal feelings about how they parent."
Today's Parent magazine advocated support for the pop princess by insisting that the "pic is sweet," and The Stir Cafe Mom blog wrote that "the world needs to get a grip" in response to the "mind-boggling" condemnation.
Simpson isn't the only high-profile figure to come under fire for apparent "swimsuit sexualization" in the past week. Model/actress turned designer Elizabeth Hurley was also accused of sexualizing young ones through her bikini line for children. Her website features child models donning her designs, striking what some deem to be "grown-up" poses.
In one photograph, a young girl wears the animal-print "Mini Cha Cha Bikini" with her hands on her poised on her hips, another wears the leopard-print in full piece, and in another picture dons a leopard-material hat and a skimpy purple two-piece, one hand on the hip.
Norma Kamali, celebrated fashion designer and founder of StopObjectification.com, an online community that cultivates dialogue surrounding female objectification in everyday life, said that the best recourse parents have in such a situation is simply to boycott the line.
"Don't buy it. In fact, directing young girls to causes and activities that involve them in the betterment of the environment is ideal," she advised. "Having young girls volunteer in the community, within groups, transfers the superficial focus from possessions which never fill the soul, to meaningful experiences that enrich."
The issue has also become a prominent topic of debate across the web, with some tweeting such things as "NO! Little girls should not wear bikinis," while others have stood in support of Hurley.
"It is normal for a child to wear a bikini," wrote one, as another noted: "I'm sure they didn't make them so little kids could get tans, they look cute and adorable."
But Wanis says something as arguably harmless as "baby bathing suits" can have serious ramifications in later life.
"Sexualizing children at this young age is dangerous because it impairs their emotional and sexual development and reinforces to girls that their primary value and self-worth is their body and level of sexual appeal," he said. "W hich in turn is creating more eating disorders and body dysmorphia amongst young girls."
Reps for Simpson and Hurley did not respond to a request for comment.