Jennifer Lawrence's dress rips at SAG Awards. Or does it?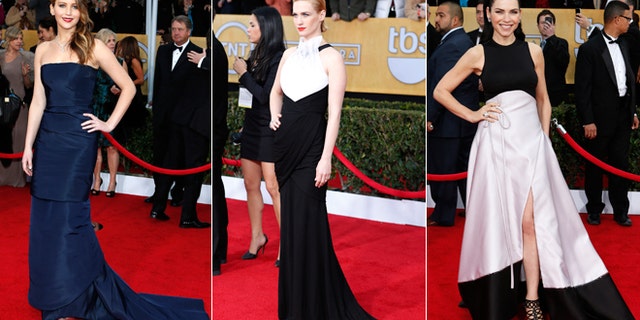 LOS ANGELES – Jennifer Lawrence had viewers buzzing with "oh-my-gosh" gasps during Sunday night's telecast of the Screen Actors Guild Awards (SAG) when she took to the stage to accept the award for Best Female Actor in a Film, and her dress fell down.
"I've never loved Jennifer Lawrence more than when she ripped her dress while walking to accept her award," tweeted one. Another weighed in that she "ripped the hell out of her dress," as others praised her for keeping such "composure" and others called the incident "embarrassing."
PHOTOS: Stars sexy styles at the SAG Awards
But even though the bottom half of the tight-fitting navy couture Christian Dior gown did slip down as she walked, revealing a mesh lining, the dress was actually a two-piece get-up that the "Silver Linings Playbook" star had opted to wear to look as though it was all one piece.
So a wardrobe malfunction yes, but no rips, as widely reported. All Lawrence had to do when she reached the podium was lift the top up and everything fell back into perfect place.
And by the time the actress made it backstage with her SAG statue, she seemed to have completely forgotten about the moment, and was instead focused on another addition to her look.
"I got a really cool inhaler," Lawrence, who had this week been struck down with a bout of pneumonia, quipped. "I'm feeling a lot better."