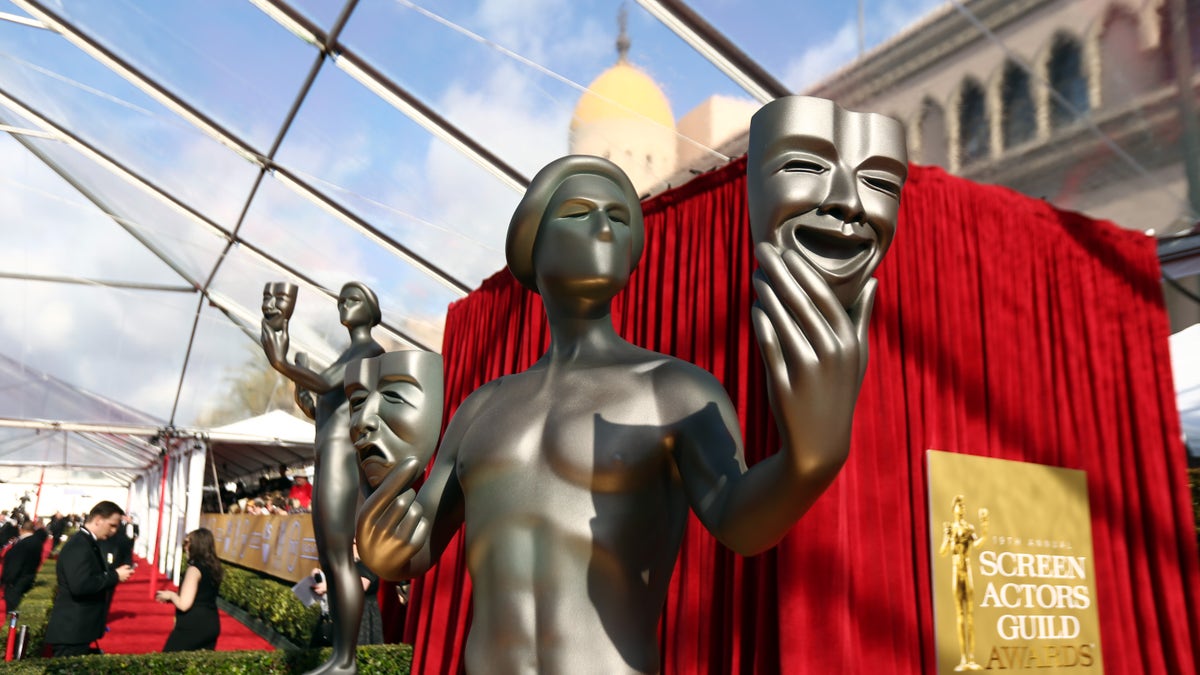 LOS ANGELES – The CIA thriller "Argo" continues to steamroll through awards season, winning the top honor for overall cast performance at the Screen Actors Guild Awards.
SAG's lead-acting honors Sunday went to Jennifer Lawrence won for her role as a troubled widow in a shaky new relationship in the lost-souls romance "Silver Linings Playbook" and Daniel Day-Lewis as Abraham Lincoln in the Civil War epic "Lincoln."
The supporting film awards Sunday went to Anne Hathaway of "Les Miserables" and Tommy Lee Jones of "Lincoln."
"It occurred to me -- it was an actor that murdered Abraham Lincoln," said Day-Lewis, a solid front-runner to join an exclusive list of three-time acting Oscar winners. "And therefore, somehow it is only so fitting that every now and then an actor tries to bring him back to life again."
The SAG cast win came a day after "Argo" claimed the top honor from the Producers Guild of America, whose winner often goes on to claim best picture at the Academy Awards. "Argo" also was a surprise victor two weeks ago at the Golden Globes, where it won best drama and director for Ben Affleck.
The award momentum positions "Argo" for a rare feat at the Feb. 24 Oscars, where it could become just the fourth film in 85 years to be named best picture without a nomination for its director.
"To me this has nothing to do with me, it has to do with the incredible people who were in this movie," said Affleck, who also stars in "Argo" and accepted the SAG prize alongside his cast.
It was a brisk, businesslike and fairly bland evening as the actors union handed out honors to a predictable lineup of winners who generally had triumphed at earlier Hollywood ceremonies or past SAG shows.
"Now I have this naked statue that means some of you even voted for me, and that is an indescribable feeling," ''Silver Linings" star Lawrence said after explaining she earned her SAG card at age 14 by filming a spot for MTV.
Hathaway won for her role as a doomed single mother forced into prostitution in the adaptation of the stage musical based on Victor Hugo's epic novel. Her win came over four past Oscar recipients -- Sally Field, Helen Hunt, Nicole Kidman and Maggie Smith.
"I'm just thrilled I have dental," Hathaway said. "I got my SAG card when I was 14. It felt like the beginning of the world. I have loved every single minute of my life as an actor. ... Thank you for nominating me alongside incredible women and incredible performances."
Jones, who was not at the show, won for his turn as abolitionist firebrand Thaddeus Stevens in the Civil War epic. The win improves his odds to become a two-time Academy Award winner. He previously won a supporting-actor Oscar for "The Fugitive."
On the television side, with "30 Rock" ending its run, its stars Tina Fey and Alec Baldwin won the SAG awards for best comedy performers. It was Baldwin's seventh-straight win, while Fey earned her fifth SAG prize.
"Oh, my God. It's ridiculous," Baldwin said. "It's the end of our show, which is sad. Everybody is sad about that. It was the greatest experience I've ever had."
Fey gave a plug for the show's finale airing Thursday, noting that it's up against "The Big Bang Theory."
"Just tape 'The Big Bang Theory' for once, for crying out loud," Fey said.
"Modern Family" won for best overall cast in a TV comedy show. Accepting for the cast, "Modern Family" co-star Jesse Tyler Ferguson offered thanks to the makers of "30 Rock" and another departing series, "The Office," saying "you all have set the comedy bar so high."
Ferguson joked that if the "30 Rock" or "The Office" stars need jobs, they should contact the "Modern Family" casting director.
The TV drama acting awards went to Claire Danes of "Homeland" and Bryan Cranston of "Breaking Bad."
"It is so good to be bad," Cranston said.
"Downton Abbey" won the TV drama cast award.
Julianne Moore's turn as Sarah Palin in "Game Change" earned her the TV prize for best actress in a movie or miniseries. Kevin Costner won for best actor in a movie or miniseries for "Hatfields & McCoys."
Fey, who memorably spoofed Palin herself in "Saturday Night Live" sketches, said backstage that Moore's performance was "incredible. She really disappeared into the character, she did a real film acting job. You wouldn't want a sketch acting job in that movie."
Earlier, the James Bond adventure "Skyfall" and the fantasy series "Game of Thrones" picked up prizes for best stunt work, honors announced on the red carpet before the official SAG Awards ceremony.
JoBeth Williams and Scott Bakula announced the winners, noting the value of stunt players, who often are overlooked for their contributions to film and television.
"The stunt men and women of our union are critical to the work that gets done," Bakula said. "They keep us healthy, they keep us alive, they keep us working. They keep our shows working."
The SAG honors are the latest show in a puzzling Academy Awards season in which Hollywood's top prize, the best-picture Oscar, looks up for grabs among several key nominees.
Honors from the actors union, next weekend's Directors Guild of America Awards and Saturday night's Producers Guild of America Awards -- whose top honor went to "Argo" -- typically help to establish clear favorites for the Oscars.
But Oscar night looks more uncertain this time after some top directing prospects, including Affleck for "Argo" and Kathryn Bigelow for "Zero Dark Thirty," missed out on nominations. Both films were nominated for best picture, but a movie rarely wins the top Oscar if its director is not also in the running.
Steven Spielberg's "Lincoln" would seem the Oscar favorite with 12 nominations. Yet all of the triumphs for "Argo" leave the Oscar race looking like anybody's guess.
The SAG honors at least should help to establish solid front-runners for the stars. All four of the guild's individual acting winners often go on to receive the same prizes at the Academy Awards.
The SAG cast prize has a spotty record at predicting the eventual best-picture recipient at the Oscars. Only eight of 17 times since the guild added the category has the cast winner gone on to take the best-picture Oscar. "The Help" won the guild's cast prize last year, while Oscar voters named "The Artist" as best picture.
Such past guild cast winners as "The Birdcage," ''Gosford Park" and "Inglourious Basterds" also failed to take the top Oscar.
Receiving the guild's life-achievement award was Dick Van Dyke, who presented the same prize last year to his "The Dick Van Dyke Show" co-star, Mary Tyler Moore.
After waiting on stage for a prolonged standing ovation to end, Van Dyke said, "That does an old man a lot of good."