'Jane the Virgin' tackles abortion from both sides of the controversial issue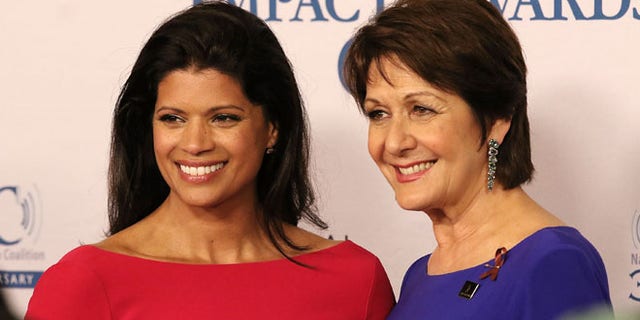 "Jane the Virgin" is being praised for the way in which it tackled the sensitive and hot-button issue of abortion on primetime television.
On Monday night's episode of the hit CW show, Jane's mother Xiomara revealed had an abortion off-screen after finding out she was pregnant from a one-night stand
It's a story line that has been in the works since the second season as one of Xiomara's major arcs made it clear that she absolutely does not what any more children. So when she became pregnant, it was a natural fit to have the conversation about abortion.
Instead of focusing on Xiomara's decision, the episode mostly focused on how her family reacts to her actions – Jane, her ex Rogelio were supportive while her Catholic and pro-life mother, Alba, was deeply troubled.
Alba has difficulty coping with her daughter's decision and even suggests several times during the episode on Monday that Xiomara may end up in Hell for what she has done.
"We had a character who felt one way, and we had a [different] character who felt another way — so we had a real opportunity to understand and empathize with both of their points of view," show-runner Jennie Snyder Urman told Vanity Fair. "We tried really hard to have a balance — to give Alba a chance to say what she wanted to say, to give Xio and them [a chance] to show that the family's love is going to get them past the fact that they don't agree on everything."
Snyder-Urman said they wanted to balance the show's portrayal of reproductive rights and health and felt they needed to show the topic through as many lenses as possible.
"We were uniquely positioned within the family to weigh different people's opinions on it and ultimately respect what Xiomara wanted to do," she said. "For every woman, abortion is a different choice, and they go through different emotions. I've seen a lot of the torment and the torture of making that choice or considering that choice, but what I hadn't seen is that some women who make that choice are relieved."
How the sensitive topic was handled is getting praised by pro-choice organizations, including Planned Parenthood, who helped producers gather information and statistics about the Latino community's points of view on abortion.
In a statement, the organization applauded the show and its producers for depicting a family having "frank and honest discussions about abortion."
"This is the first time we've ever seen a Latina speak openly about her decision to have an abortion on primetime network television," Caren Spruch, director of arts and entertainment engagement at the Planned Parenthood Federation of America, said in the statement. "This should not be revolutionary. Latinos, like the majority of the population, believe the decision to have an abortion should be left to a woman in consultation with her family, her faith and her doctor."
She continued, "Pop culture can help challenge the stigma and change the conversation about abortion. We're thrilled that the filmmakers behind 'Jane the Virgin' recognize this."
Like us on Facebook
Follow us on Twitter & Instagram