Jamie Lee Curtis recalls humble beginnings filming original 'Halloween,' buying wardrobe at JCPenney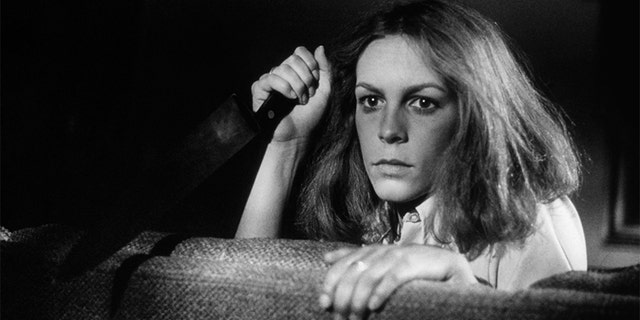 It's been 40 years since the original "Halloween" movie scared the daylights out of audiences in 1978 — and the frightening film franchise has come a long way.
Jamie Lee Curtis, who became a movie star at age 19 when she got the role of Laurie Strode, was paid only $8,000 for the low-budget thriller, which was made for a total of $325,000.
The now-59-year-old told People magazine Thursday she was only given $200 to find a wardrobe herself.
"All of a sudden, I was going to JCPenney and buying Laurie's wardrobe with $200," Curtis reflected to the magazine.
And instead of swanky trailers for the set, the cast worked out of a single Winnebago RV.
"There were cabinets in the Winnebago," said Curtis. "Each girl got a drawer with her name on it to put her purse in. The makeup and the hair and the wardrobe were all in this one Winnebago that we all shared."
"I made $8,000," she recalled. "I made $2,000 a week, which at the time was a fortune."
The crew for the low-budget thriller was also small for Hollywood standards.
"Twenty people, maybe 15," said Curtis. "The oldest person was 30. Every other person was under 30. It was magic. A friend of somebody cooked the food each day and we all ate on the ground together."
However, it all proved to be worth it. "Halloween" went on to make a whopping $47 million at the box office.
Curtis, now recognized as a legendary scream queen, went on to star in other horror films, such as 1980's "Prom Night" and "Terror Train." She also appeared in other numerous hit films, including 1994's "True Lies."
And despite her experience, Curtis revealed she can't even watch her own scary movies.
"I don't understand why people like these movies," she admitted. "I don't like being scared! I'm the girl who watches movies under a blanket, and I cover my face."
The magazine also shared the newest "Halloween" film was a box office sensation, earning $78 million domestically. Curtis took to Instagram to celebrate.
"Biggest horror movie opening with a female lead," she captioned. "Biggest movie opening with a female lead over 55. Second biggest horror movie opening ever. Second biggest October movie opening ever. Biggest Halloween opening ever. Couldn't be prouder of ALL who made this creative experiment have such a thrilling result!"
But looking back, Curtis did face some obstacles along the way.
Just recently, Curtis revealed to People she was addicted to opiates and hid it from the people around her for 10 years.
Her addiction to opiates began after undergoing surgery for her "hereditary puffy eyes" in 1989. She was prescribed opiates following the surgery. The daughter of Hollywood stars Tony Curtis and Janet Leigh said she stole pills from family and friends, including her sister Kelly.
Curtis' family also had a history of addiction struggle, most notably her father, who struggled with alcoholism and abused heroin and cocaine.
Curtis told People she got help in February 1999 after attending a recovery meeting, telling her husband Christopher Guest of her addiction the very same day. She told the magazine that getting herself clean was her "single greatest accomplishment."
"I'm breaking the cycle that has basically destroyed the lives of generations in my family," she said. "Getting sober remains my single greatest accomplishment… bigger than my husband, bigger than both of my children and bigger than any work, success, failure. Anything."
The horror film icon said she's been sober for almost 20 years and attends recovery meetings. She said she hopes to help others who have also struggled with addiction.
Fox News' Kathleen Joyce and the Associated Press contributed to this report.