Jaime King's son, 4, struck by glass after man smashes car windshield, police say
Jaime King's 4-year-old son was struck by glass after a man allegedly jumped on a car's windshield and smashed it while the young boy was inside Wednesday.
The actress' son, James Knight, and King's friend were in a parked vehicle in Beverly Hills, Calif., when a man, identified as Paul Francis Floyd, 47, jumped onto the vehicle, police said in a news release obtained by People.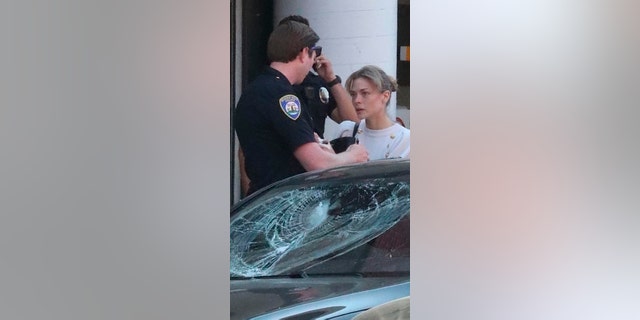 "[James] was secured in a child car seat positioned in the back seat of the vehicle as the suspect jumped on the rear windshield causing glass to shatter and strike the child," the release stated.
Witnesses told TMZ they saw a man approach the vehicle on a skateboard, then crawl on the car's hood and begin banging on the windshield. King, 38, was not in the vehicle at the time of the attack.
King's friend reportedly exited the car and confronted the suspect, who then threw a can that hit her in the arm.
The "Hart of Dixie" star was later pictured visibly shaken after the alleged attack. As of Thursday morning, King had not addressed the incident on her social media pages. King's rep declined a request for comment from People regarding the incident.
Police arrived at the scene and arrested Floyd. They also received several calls on vehicle vandalism similar to the incident involving King's son, People reported.
Floyd was arrested for felony child endangerment, misdemeanor battery and two counts of felony valndalism. He is being held on $100,000 bail and is scheduled to appear in court April 6.