Jack Black reunites with 'School of Rock' drummer, sparks frenzy over child star's 'totally different' look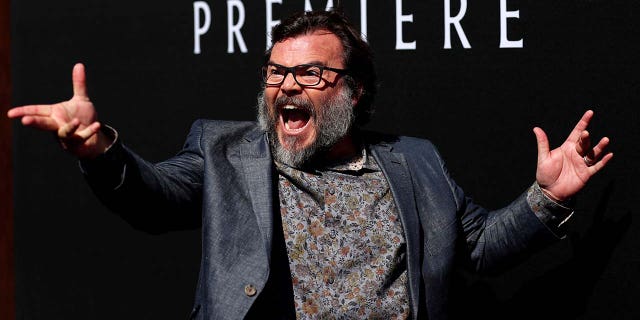 Jack Black met up with child actor Kevin Clark and it was just as "rock 'n' roll" as Dewey Finn — the fake Mr. Schneebly — would have wanted. Clark, who played the famous spiky-haired punk drummer Freddy Jones in the 2003 comedy "School of Rock," recently reunited with his ex-substitute teacher after a Tenacious D show.
Clark, now 29, hung out with Black backstage after his gig in Chicago. Black, 49, posed for a photo with Clark and his Tenacious D bandmate Kyle Glass. In the photo, Black is sporting a Dreadwolf T-shirt, the name of Clark's band.
"Kinda a must here, but it's not every day you get to see Jack Black wearing your t shirt," Dreadwolf posted on Instagram this week.
Fans of the film were surprised by Clark's very grown-up appearance, noting that he looks "totally different."
"He looks so different!" one person tweeted.
"That kid was my favorite. Well, I feel even older," another wrote.
"He looks different from when he was 12? weird," one user sarcastically replied.
MEGHAN MARKLE PAL MANDY MOORE REVEALS SURPRISING HISTORY WITH ROYAL: 'IT WAS ANOTHER LIFETIME AGO'
"It's called getting older..." another chimed in.
Apparently, Clark has always had a musical gift. His ability to play the drums helped land him a role in the 2003 film, according to Entertainment Weekly. But the former child star has managed to stay off the big screen ever since. Instead, he's sticking to what he's most passionate about: playing music.
Clark wasn't the only former "student" of Black's to pop up at one of his shows.
Rebecca Brown, who played bassist Katie in the show, also attended one of his Tenacious D events earlier this week, TMZ reports.