Jacee Badeaux Gets the Last Laugh; 'American Idol' Couple Splits Again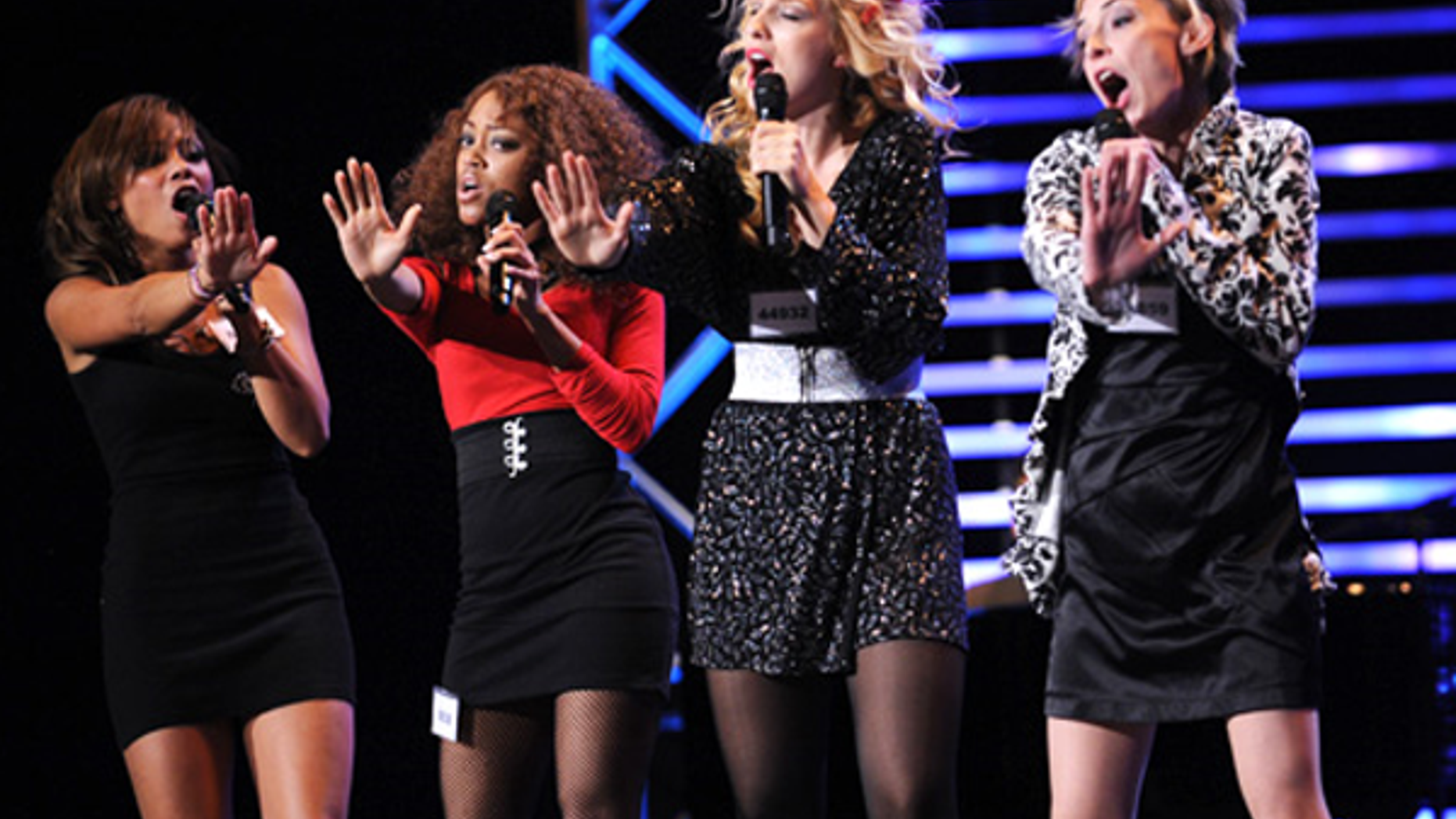 The infamous Group Week episode is known for tears, heartache, and drama -- and 15-year-old Jacee Badeaux, who was able to compete this season because "American Idol" lowered its eligibility age by one year, certainly took us on quite the emotional rollercoaster.
The saddest part of Wednesday night's show was watching adorable little Jacee get booted from his original group -- then struggle to find another group at the last minute.
Jacee's original group included the deep-voiced, kind-hearted country singer Scotty McCreery, who also had a hard time finding a group that wanted him. Scotty was conflicted about letting Jacee go, but karaoke host Clint Jun Gamboa mercilessly did away with the tearful teenager.
Luckily, crazy-haired Brett Loewenstern let Jacee join his group -- even though the youngster had never heard their song (the well-known "Mercy" by Duffy). But Jacee didn't exactly have a great audition, nervously changing the lyrics to reflect how he didn't want to "go home."
We thought the judges would surely tell Jacee that he "wasn't ready" for "Idol," but instead, they gave him another chance. Jacee burst into sobs in the tear-jerker moment of the night (accentuated by a sappy Coldplay soundtrack) as his "fans" -- at home and in the audience -- applauded.
Group Week might have been a dream come true for Jacee, but it was a nightmare for Rob Brolin. If it wasn't bad enough being in a group with his ex-girlfriend Chelsee Oaks, Rob also had no desire to perform as a "male dancer." Between the choreography and sheer exhaustion, Rob stumbled through the lyrics of "Forget You" -- and said goodbye to his more successful ex for good.
VIDEO: Go behind-the-scenes at Hollywood Week.
But the worst "group" of the night was probably Tiffany Rios and Jessica Yantz. Tiffany -- the contestant who infamously wore "jujubes on her oo-oo-bees" -- insulted her fellow competitors last week by proclaiming that she was "tired of seeing people trying to do what I know I can."
Needless to say, nobody wanted to be on her team -- except for "hottie" Jessica Yantz, who inexplicably left her own group to be with Tiffany. Both ladies got the ax -- but we're still not sure why Tiffany received a golden ticket to Hollywood to begin with.
Joining Tiffany in the train wreck department was the ever-dramatic Ashley Sullivan. Ashley is this year's "crier" (it seems like there's one every year) -- and at one emotional low point she decided to leave the show altogether. After "Idol" producers (and her boyfriend) urged her to reconsider, Ashley changed her mind -- and miraculously pulled herself together in time to give a cute performance.
Meanwhile, front-runner Lauren Alaina outsmarted the competition once again. She serenaded her biggest fan, Steven Tyler, with "Some Kind of Wonderful" as part of her group routine -- and won a pass to the next round with the cutesy (yet gimmicky) performance.
We were a little surprised to say goodbye to Paris Tassin, the talented single mom of special needs daughter, so early in the competition, but she really did have an off-performance with Rihanna's "Only Girl (In the World)."
Finally, James Durbin, the young dad who suffers from Tourette's and Asperger's, has star written all over him -- but we think he went a bit too far attacking the 15- and 16-year-olds who were receiving help from their "stage moms." Turns out, the teeny boppers performed Queen's "Somebody to Love" better than Durbin's group. But Durbin himself made the cut anyway -- how could the judges eliminate the next Adam Lambert?
Let's see how he holds up against 99 rivals in Thursday's solo auditions.