'I've got a bad feeling about this': 'Star Wars' fans freak out over Walt Disney purchase news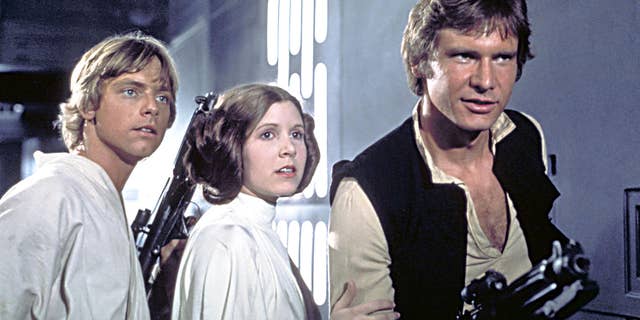 "Star Wars" fans were divided over the news that the Walt Disney Co. had purchased LucasFilms for a hair over $4 billion and announced a "Star Wars VII" for as early as 2015.
While many noted that Disney had purchased Marvel and done wonders with the "Avengers" franchise, die-hard "Star Wars" fans were having a hard time swallowing the news, especially on the social blog Tumblr. Here then are some fans who would rather have had Mickey's mitts kept off of Luke and Leia.
"so apparently disney is buying lucasfilms for 4billion USD and then going to make a star wars 7. JUST NO :( Star Wars ended perfectly if they ruin- which they probably will, it i will throw tomatoes in their faces." -- chocolatefudgeyou
"I'm litteraly crying about this Disney Star Wars thing guys. just… I don't want this *Sobs*" -- vikishus
"F**K YOU DISNEY" -- gbeats
"To quote James Earl Jones, "NOOOOOOOOOOOOOOOOOOOOOOOOOO!" I don't want a new movie. Star Wars has had enough movies. And they can't cast new people to be Han, Leia and Luke. The original cast members are too old for this stuff, unless…this will be like Indiana Jones and the Kingdom of the Crystal Skull. No. Dear God. No. George Lucas, you are now officially the biggest sell-out in the universe." -- courtneysmovieblog
"Either way I can only imagine that Disney being Disney will have Jar Jar Binks made Chancellor and that ewoks run everything on Coruscant. But who knows? 2015 is just over 2 years away, I'll be 21 and hopefully I will have come round to the idea of more Star Wars films. In the immortal words of nearly every character in Star Wars - I have a bad feeling about this." -- tiffin-reviews
"Seven minutes into his interview with Jon Stewart on the Daily Show, George Lucas clearly stated that his WWII film Red Tails (2012) was as close to Star Wars Episode VII as we'd ever get. I took that as a promise, George." -- apartment22
"the world really is ending! Disney bought Star Wars for over 4.5 million dollars and is making more.We're doomed." -- kaptainbaconfox
"HAHA I JUST MADE MY EX BOYFRIEND DELETE ME ON FACEBOOK BECAUSE I RANTED ABOUT STAR WARS TOO HARD. WHOOOOOPS." -- ferrytotheworld