Is Jennifer Aniston pregnant?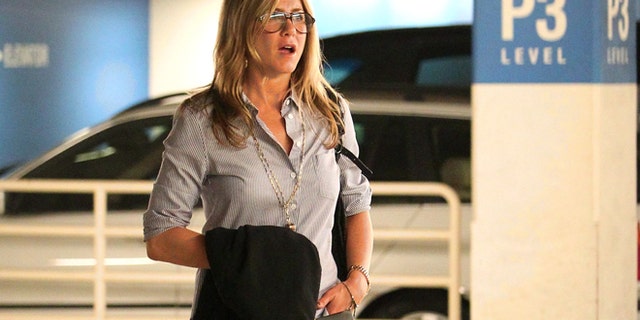 NEWYou can now listen to Fox News articles!
NEW YORK – Could Jennifer Aniston's wedding gown be a maternity dress?

The 43-year-old actress, who is engaged to Justin Theroux, covered her stomach with her sweater as photographers snapped pictures of her leaving Barney's in Beverly Hills over the weekend.
PHOTOS: Is Jen hiding a baby bump?
According to X17, Aniston made a big effort to hide a possible baby bump with her shopping bag and jacket as she walked through the parking lot.
Her rep denied pregnancy rumors to US Weekly last week when another photo surfaced that showed Jen's midsection looking larger than usual.
"It's crap," the rep said.
But the photographic evidence has fans excited about the possibility that Aniston could finally become a mom.
Back in 2002, Aniston's character on "Friends," Rachel Green, became a mother to baby Emma. She also played a mom in 2008's "Marley and Me."