Hollywood bailing on President Obama and the Democratic National Convention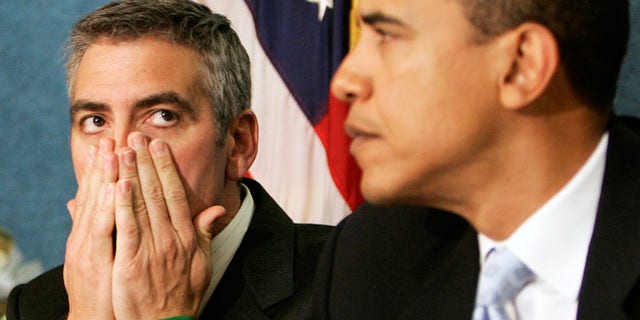 LOS ANGELES – President Obama recently praised Hollywood superstar George Clooney, calling him a "wonderful guy" and good friend. But even in the wake of the headline-grabbing compliments, a rep for the Oscar-winning actor confirmed he will not be attending the forthcoming Democratic National Convention (DNC) in Charlotte, North Carolina.
And it seems the majority of Clooney's high-powered Hollywood counterparts are also passing on the 2012 convention – a far cry from 2008's showdown in Denver, Colorado which attracted dozens of A-listers including Oprah Winfrey, Sarah Silverman, Fallout Boy, John Legend, Cyndi Lauper, Ashanti, Fran Drescher, Ashley Judd, Rage Against the Machine, Aisha Tyler, Anne Hathaway, Susan Sarandon, Jon Hamm, Cash Warren, Jessica Alba, Fergie, Will.i.am, Kanye West, Matthew Modine, Kerry Washington, Stevie Wonder, Rosario Dawson, Jennifer Hudson, Shawn Johnson, Forest Whitaker, Star Jones, Wilmer Valderama, Daniel Dae Kim, Kelly Hu, Jamie Foxx, Ben Affleck, Jennifer Garner, Chevy Chase, Richard Dreyfuss, Melissa Etheridge and Pharrell Williams.
Just to name a few.
We reached out to reps for all of the above in an attempt to find out if these stars would be attending the DNC again this year. A majority did not respond, but of those who did, few will be making a return trip.
Fergie and Cyndi Lauper will not be attending, and neither will Chevy Chase due to "Community" filming commitments. A rep for Fran Drescher said her schedule remained unconfirmed. According to political publication The Hill, reps for Susan Sarandon and Jon Hamm confirmed that their clients too would not be returning to the convention.
Not only will there be fewer famous faces, but fewer lavish affairs too. For one, Vanity Fair, which co-hosted a hotly-ticketed to-do in 2008, is not holding an event this year.
"No place is more fickle than Hollywood. Obama over promised and under delivered with regard to 'Hope & Change' and he is experiencing the consequences with the lack of celebrity support at this year's DNC," political expert and humorist Rob Taub told FOX411's Pop Tarts column. "Many celebrities are still making large financial contributions to the campaign, but they're concerned about public displays of affection to a candidate with waning popularity. At best, expect B-list stars at the convention."
So who from Hollywood is going?
A rep for Alba confirmed that the actress intends to make her way to Charlotte, and Eva Longoria, Dave Grohl, The Roots and the B52s are also expected to be on-hand. In addition, Jeff Bridges is slated to attend both the DNC and RNC to promote his efforts to end childhood hunger.
It has also been widely reported that the Democratic National Committee had a hard time booking musical acts due to the fact that the MTV Video Music Awards will be taking place in Los Angeles on September 6, the same night Obama will accept the party's nomination for president. The convention also commences just after Labor Day weekend, which means celebs may already have plans.
Yet one source closely connected to the party assured us that the lack of Hollywood types this year is very deliberate, as the "Democrats try to keep celebrities away as they think it hurts their image." While Barack Obama's barrage of Hollywood fundraisers earlier this year did give his campaign fund a significant monetary boost, it proved to be a dangerous double-edged sword as many expressed concern that he was relying too much on celebrities, and that the tactic could backfire with swing voters.
"It may be that Hollywood is not all that excited as they were four years ago. It also may be that Democrats are trying to brand themselves as the everyday person party more than ever before and Hollywood royalty does not jibe with that," said PR guru Glenn Selig. "The president has relied heavily on Hollywood for money and Democrats have criticized Romney over his wealth, perhaps Democrats want to keep that as an issue and they certainly cannot do that if Democrats are seen as elitist, too."
Don Peebles, Chairman and CEO of The Peebles Corporation and a member of President Obama's National Finance Committee, concurred that simmering down the star-studded focus was likely a strategic move.
"It sends the wrong message if you're a candidate for President, Republican or Democrat, and you're surrounded by celebrities. The message does not resonate well with middle-income Americans, especially in the current financial climate," he explained. "And it's just that the novelty has worn off a bit as it does with any popular candidate. President Obama is still well respected and admired in the celebrity community, but in 2008 he was a transformational figure with a transformational message. That message has been received and the President is now delivering a renewed message."
Others have suggested that even over the last four years, celebrities have become more and more about being paid to make an appearance at any party or event, and clearly neither the DNC or RNC is likely willing to shell out the big bucks typically requested by the show business elite.
And although the Republican National Convention is not typically associated with a huge Hollywood presence, it will still have a touch of Tinseltown (and Nashville) this year as the likes of Kid Rock, Wyclef Jean, Journey, John Popper, Rodney Atkins, Willie Nelson, Lynyrd Skynyrd, The Oak Ridge Boys and Lee Greenwood have all been booked to entertain the masses. An insider also said that country star Sara Evans will be performing at a private party, however her rep did not respond to a request for comment.
"I don't think it is surprising that the acts you mentioned are scheduled to be at this year's RNC convention or after-parties," added Jeff Roe, Founder of Axiom Strategies in Kansas City, MO. "GOP celebrities participate because of their ideology. Democrat celebrities do it for the party, and with unemployment over 8 percent, the parties just aren't that fun."
Ouch.
Danielle Jones-Wesley contributed to this report.