'Hating Breitbart': Doc shows late Andrew Breitbart different than represented by mainstream media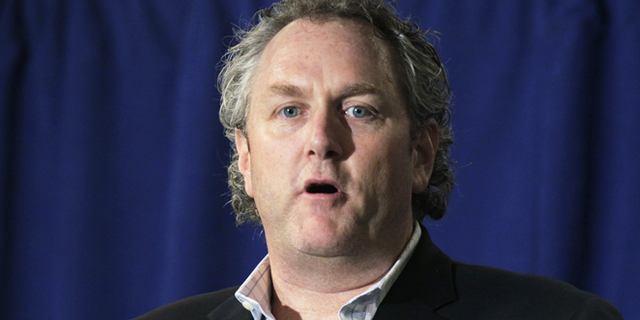 Conservative commentator and activist Andrew Breitbart attracted a slew of friends and foes railing against mainstream media, but the new documentary "Hating Breitbart" splotlights much more than the late commentator's political positions.
"This (film) is about showing the human being behind all the misconceptions. Andrew was a tremendous person to be around, a stark contrast to the angry and confrontational man he was often portrayed as by the progressive media. He never took himself too seriously," director Andrew Marcus told FOX411's Pop Tarts column. "We call him a cross between 'Joshua Tree' and 'Spinal Tap.' He was passionate but never took himself too seriously."
The idea for the documentary, which centers on Breitbart's determination to highlight how the mainstream media routinely distorts and conveniently ignores certain facts, was sparked when Marcus saw him speak at a Tea Party convention in early 2010.
"That speech really ignited the whole thing. He was a man who had been vilified as a racist, as had the whole Tea Party Movement, and he stood by and declared war (on those representations). The connection he made in that room, it was so visceral and electrifying," Marcus continued. "We knew that he was the real story and followed him right through to Weinergate."
"Hating Breitbart" also takes an in-depth look Breitbart's involvement in the ACORN and Anthony Weiner scandals, how traditional media approached each, and the power of new media to tell a different story. Marcus says that despite the overwhelming response since its release last month, the film has encountered challenges along the way.
"We knew mainstream distributors wouldn't touch it, not necessarily because of the political content, but because they like a formula and can't take too many risks, so we knew we had to go with an independent distributor, and we actually had a lot of interest there," Marcus explained. "And then there are hurdles due to the political season. The news media is busy with the campaign, and you're also competing with holiday films, so the time to release was either now or next year, and there was some debate about that. We felt it was important to release this before the election, not to have political sway, but because Andrew was all about the fight."
However, "Hating Breitbart" did hit screens later than anticipated due to conflict with the ratings governing body MPAA, which slapped it with an unexpected R rating due to language. Marcus said that they modified some of the "F" words and resubmitted – but the R rating stuck.
"I don't have a reason to think that was a political decision. I think it really depends on who happens to be on the viewing board that day," Marcus said, adding that they may do an even more modified version to enable a broader and younger demographic to see it. "I'm not thrilled about that because it is more important to have Andrew saying what he really said, but we want as many people as possible to see it."
According to a rep for the MPAA: "The R rating and description of 'some language' for 'Hating Breitbart' does not mean that children cannot see the film. As with any movie, parents will decide if they want their children to see the movie. The R rating is not a judgment on the value of any movie. The rating simply conveys to parents that a film has elements strong enough to require careful consideration before allowing their children to view it."
Marcus simply hopes "Hating Breitbart" will make audiences to think outside the box and question mainstream media.
"There is a machine in place to vilify certain people, so hopefully people can begin to look at what they see and recognize that maybe it isn't true," he said. "I hope people are provoked to really think."
As "Hating Breitbart" continues to make a stir as it expands to more theaters, the team behind the documentary takes some solace in the fact that Breitbart did get to see a cut about two months before his sudden death earlier this year at the age of 43.
"I would have tortured myself if he hadn't seen it," Marcus added. "We insisted that Andrew have absolutely no control over the creative content, but his reaction was overwhelming. He saw it as a real opportunity to fight."