'Harry Potter' author J.K. Rowling compares royal wedding attendance to Trump's inauguration crowd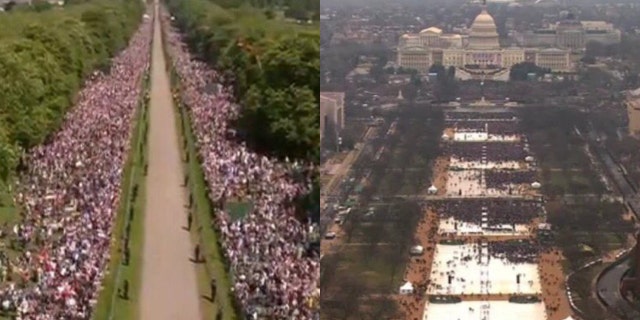 Thousands of eager fans flocked to Windsor Castle this morning to witness the marriage of Prince Harry and Meghan Markle. In fact, so many people lined the road to catch a glimpse of the newly married couple that famed British author J.K. Rowling decided to compare the royal wedding attendance to that of America's 2017 presidential inauguration.
On Saturday morning, during the highly-anticipated wedding of the year, the "Harry Potter" author tweeted out a picture of the Windsor wedding crowd and placed it beside a photo of the crowd at Donald Trump's inauguration in Washington, D.C.
Rowling tweeted the image and wrote, "Love > Hate."
Following Rowling's tweet, BBC Three mimicked the novelist and tweeted the same comparison photo of the royal wedding crowd and Trump's inauguration and said, "Just saying :)"
So far, the famous author's tweet has gained more than 40,000 likes and 8,000 retweets while the BBC Three tweet has gained more than 90,000 likes and 34,000 retweets.
Some Twitter users agreed with Rowling's tweet, apologizing to the British people for the American president.
Others defended Trump.
According to the Royal Borough of Windsor & Maidenhead, more than 100,000 people visited Windsor for the royal wedding festivities.
For Trump's inauguration, the current president reportedly had about 300,000 to 600,000 people attending his swearing-in ceremony, according to Vox.
And while Trump may have had more people at his inauguration than attended the royal wedding, it was Barack Obama who made history. In 2008, for the former president's first term, Obama brought in a reported 1.8 million people to the Mall.
According to the Washington Post, Obama's inaugural crowd may have been the largest Mall gathering in history.