'Grey's Anatomy's' Maggie and DeLuca's relationship will 'take an unexpected turn'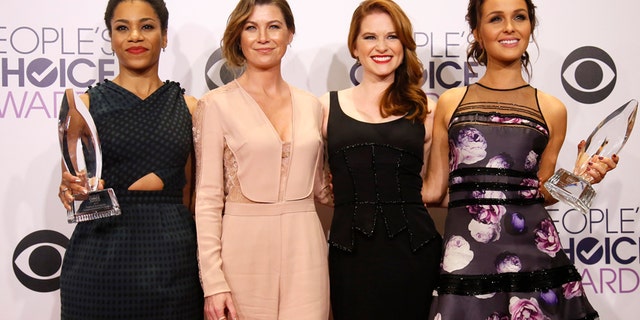 [Spoiler alert! The following contains spoilers from "Grey's Anatomy"]
Maggie (Kelly McCreary) and Andrew (Giacomo Gianniotti) may hit the first bump in the road of their relationship on Thursday's episode of "Grey's Anatomy," when the pressure of keeping their romance under wraps starts to become an issue.
"We've seen so far, with Maggie and DeLuca, that they've not been very successful at keeping their relationship a secret," McCreary tells TVGuide.com. "I'll just say that the stress of that sort of starts to bear down on DeLuca in particular, and they're faced with a reality check about what they're doing."
Adds Gianniotti: "Something happens that makes them both sort of solidify their stance on how they feel about the relationship."
'Grey's Anatomy's' Sarah Drew: There's a "tremendous sense of hope" for Jackson and April
McCreary points out that Maggie and Andrew's relationship - if we can even call it that at this point -- happened almost by accident, and both may find themselves in over their heads.
"I think this whole thing snuck up on Maggie," McCreary says. "What's been fun to play is watching her enjoy it, and not try to run away from it. She's certainly trying to keep things compartmentalized, and [faces] the challenges that human beings face when they try to be so in control of every part of their lives."
Suffice it to say, even though Maggie and Webber (James Pickens Jr.) have reached a tacit understanding about her relationship with Andrew, Andrew's still reeling from the revelation that he's essentially sleeping with his boss' daughter. Had he known that from the beginning, he may not have pursued a relationship with Maggie, Gianniotti notes.
"That was a huge blow for Andrew," Gianniotti says. "That adds a whole other layer of complications and that's not what he signed up for. I think him getting this deep and then finding that out was a little bit hard for him, because it sort of adds a whole other layer of pressure. ... Obviously, because the time has passed, he is deeply invested in Maggie, so he's not at the point where he's willing to throw that all to the wind just because of that. However, yes, it's a very different terrain now that he's navigating with this knowledge."
VIDEO: How well do the stars of 'Grey's Anatomy' know medical jargon?
And on Maggie's side, she's worried about what a nonprofessional relationship with an underling will do to her reputation - though, of course, such a dynamic is hardly unusual at Grey Sloan. "I think Maggie's personal problem with it has to do with her experience of always being the youngest and the smallest and having to work really hard to be taken seriously as a professional," McCreary says. "She doesn't realize how accepted she is at the hospital, and respected. As far as I can tell, she doesn't realize that that's not at stake for her here. She's finally in a place where she's established as a leader, and can relax in that position. But she doesn't know that, because that hasn't been her experience."
Though they share similar hesitations (as well as a history of being unlucky in love), Maggie and Andrew find themselves at odds in Thursday's episode, and they come to a surprising decision as a result.
"They're out of sync in tonight's episode, and there is a little bit of a problem because of it," McCreary hints. "It definitely takes an unexpected turn, which I don't think fans will see coming."