'Get Shorty' author Elmore Leonard dies three weeks after stroke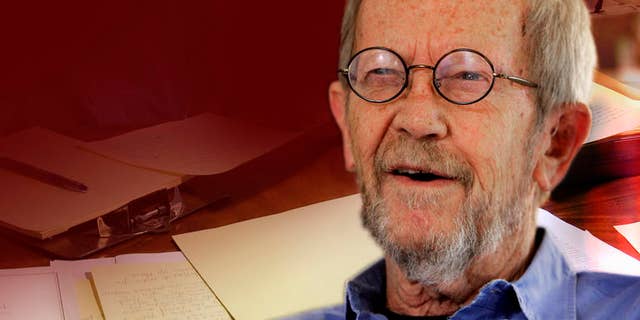 Famed Hollywood writer Elmore Leonard died on Tuesday after suffering a stroke on July 29. He was 87.
Best known for "Get Shorty," "Out of Sight" and most-recently the FX series "Justified," Leonard was surrounded by his family at the time of his death, his researcher, Gregg Sutter, told FOX411.
"The post I dreaded to write, and you dreaded to read. Elmore passed away at 7:15 this morning from complications from his stroke. He was at home surrounded by his loving family. More to follow," Sutter posted on Facebook.
Leonard, winner of an honorary National Book Award in 2012, first rose to fame with the release of his Western-themed novels. His works The "Tall T" and "3:10 to Yuma" were adapted into films. Among Leonard's best-known books turned into movies are "Hombre" and "Rum Punch," which was filmed as "Jackie Brown." His short stories were also turned into several films.
His millions of fans, from bellhops to Saul Bellow, made all his books since "Glitz" (1985) best-sellers.
His more than 40 novels were populated by pathetic schemers, clever conmen and casual killers. Each was characterized by moral ambivalence about crime, black humor and wickedly acute depictions of human nature: the greedy dreams of Armand Degas in "Killshot," the wisecracking cool of Chili Palmer in "Get Shorty," Jack Belmont's lust for notoriety in "The Hot Kid."
One remarkable thing about Leonard's talent is how long it took the world to notice. He didn't have a best-seller until his 60th year, and few critics took him seriously before the 1990s.
After his initial success in the 1950s and '60s in writing Western stories, he turned to writing scripts for educational and industrial films while trying his hand at another genre: crime novels.
The first, "The Big Bounce," was rejected 84 times before it was published as a paperback in 1969. Hollywood came calling again, paying $50,000 for the rights and turning it into a movie starring Ryan O'Neal, that even Leonard called "terrible."
He followed up with several more well-written, fast-paced crime novels, including "Swag" (1976). Leonard was already following the advice he would later give to young writers: "Try to leave out the parts that people skip."
In 1978, he was commissioned to write an article about the Detroit Police Department. He shadowed the cops for nearly three months. Starting with "City Primeval" in 1980, his crime novels gained a new authenticity, with quirky but believable characters and crisp, slangy dialogue. But sales remained light.
Donald I. Fine, an editor at Arbor House, thought they deserved better and promised to put the muscle of his publicity department behind them. He delivered; and in 1985, "Glitz," a stylish novel of vengeance set in Atlantic City, became Leonard's first best-seller.
After that, he was rediscovered by Hollywood's greats, and he saw success like he never had before. He continued to write well into his 80s.
Leonard was born in New Orleans on Oct. 11, 1925, the son of General Motors executive Elmore John Leonard and his wife, Flora.
The family settled near Detroit when young Elmore was 10. The tough, undersized young man played quarterback in high school and earned the nickname "Dutch," after Emil "Dutch" Leonard, a knuckleball pitcher of the day. The ballplayer's card sat for years in the writer's study on one of the shelves lined with copies of his books.
After serving in the Navy during World War II, he majored in English at the University of Detroit. He started writing copy for an advertising agency before his graduation in 1950.
He married three times: to the late Beverly Cline in 1949, the late Joan Shepard in 1979 and, at the age of 68, to Christine Kent in 1993.
Leonard had five children-- all from his first marriage-- 12 grandchildren and five great grandchildren.
The Associated Press contributed to this report.