George Clooney, Brad Pitt Trade Friendly Jabs in Palm Springs as Awards Season Kicks Off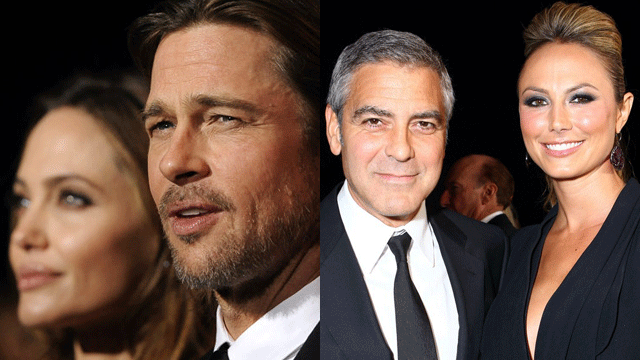 It is official – awards season in Hollywood has begun. Things got kicked off with a star-studded opening gala for the Palm Springs Film Festival on Saturday night, and George Clooney was quick to compare campaigning for a film to campaigning for elected office.
"There's a lot of baby kissing [in an awards season campaign)] as you can imagine," Clooney told FOX411's Pop Tarts column. He also said he had been following the GOP debates, and wouldn't mind if campaigning for film awards was more like campaigning for president. "I think [making it more political] is a really good idea. I would like to see some of the best actresses out there debating, like Viola (Davis) and Meryl (Streep) going at each other. That would be fun."
Clooney has already prepared how he would target fellow A-lister Brad Pitt in a debate.
"I would go at Brad about his height, he's only 5' 3"… and his drinking," Clooney joked.
Pitt was unfazed by Clooney's jabs.
"He had a really good showing in Iowa, but I will get him in New Hampshire," the "Moneyball" star declared.
Pitt – who was hobbling with a cane – also wished the two-month pat-on-the-back marathon that is awards season could be condensed into "a 48-hour festival."
"I don't think I've seen that many flashbulbs in a long time. I'm still seeing spots but it's nice," he continued. "It's the first one of the season, starts things off, and it's just nice to be here and see our friends we haven't seen all year."
And despite being one of the most talked about/followed figures in the entertainment world, Pitt has no problems with his children entering the industry.
"Whatever they want to do, whatever makes them happy," he said.
Pitt brought his longtime love, Angelina Jolie, as his date to the swanky soiree, and left it to her to explain why he could barely walk.
"We are building different parts of the lawn, and he was going down to see it, and the grass was changing levels, and he slipped," she told us, adding that he was carrying his daughter Vivienne at the time. "In order to make sure she was okay he threw himself down to protect her. He did the dad thing."
Jolie, for her part, couldn't have been more proud of her guy.
"I'm so happy he's getting all of this attention," she gushed. "It makes me very, very happy."
Clooney, too,extended his appreciation for Pitt, and show business in general.
"We really do love what we do, and we recognize that most people don't get to love their jobs. I've had lots of jobs, I have cut tobacco for a living, I sold insurance door to door, and I have sold men's suits and ladies shoes," he said in his acceptance speech for the Chairman's Award. "The point is we do understand that we are very blessed, and lucky to be doing this. It is not just about acting, you look at someone like Brad and he is terrific not just in 'Moneyball,' but looks out for the public people in the world, he builds homes for people in New Orleans, and he loves what he does. We love what we do. The truth is, we would do it for free. It's a fun thing to do."