'Game of Thrones' creators respond to backlash over new HBO project 'Confederate'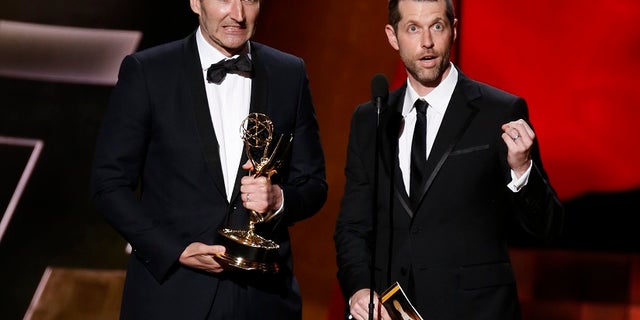 The creators of "Game of Thrones" are responding to a torrent of criticism of "Confederate," a new TV project based on the proposition the Union lost the Civil War and slavery became an institution in modern society.
David Benioff and D.B. Weiss said they were aware of the backlash the HBO show would receive but asked their fans to watch the show before making initial judgments, according to Vulture.
The series will feature characters on both sides of the Mason-Dixon line, "including freedom fighters, slave hunters, politicians, abolitionists, journalists, the executives of a slave-holding conglomerate and the families of people in their thrall," HBO said.
GIADA DE LAURENTIIS ON BEING A SINGLE PARENT: 'YOU HAVE TO ASK FOR HELP WHENEVER POSSIBLE'
Taking on issues involving race and America's original sin - slavery - was sure to court controversy, Benioff said.
"We all knew it was coming in one form or another," Benioff told Vulture.
Writers and executive producers Nichelle Tramble Spellman and husband Malcolm Spellman responded to the criticism as well.
"I do understand their concern," Nichelle Tramble Spellman said. "I wish their concern had been reserved to the night of the premiere, on HBO, on Sunday night, when they watched an hour of television as to whether or not we succeeded in what we set out to do."
FORMER MISS USA CONTESTANT BUSTED FOR SMUGGLING DRUGS INTO OHIO PRISON
"But there's no connective tissue between us and what's coming out in the media," Malcolm Spellman said. "I don't know that we can change anyone's mind but what people have to understand is, and what we are obligated to repeat in every interview is: We've got black aunties. We've got black nephews, uncles. Black parents and black grandparents. We deal with them every single day. We deal with the struggle every single day. And people don't have to get on board with what we're doing based on a press release. But when they're writing about us, and commenting about us, they should be mindful of the fact that there are no sell-outs involved in this show."
Many social media users wrote their frustrations about the show's premise, including MSNBC host Joy Reid.
"You've got to be kidding…" Reid tweeted Wednesday with a link to another tweet explaining "Confederate." Reid tweeted a response to users later: "It plays to a rather concrete American fantasy: slavery that never ends, becoming a permanent state for black people. Repugnant."