From UFC champ to Hollywood icon: Ronda Rousey to star in 'Road House' remake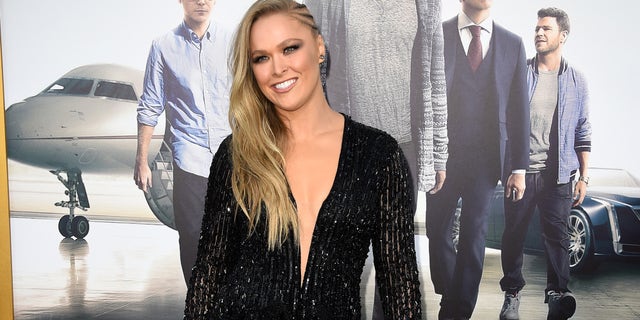 Ronda Rousey will be combining her UFC skills and her acting chomps in her newest project.
The undefeated MMA fighter is reportedly stepping into Patrick Swayze's boots and starring in MGM's remake of the 1980s cult classic "Road House."
According to Variety, Rousey has embraced the idea of playing a female version of James Dalton, the bouncer extraordinaire played by Swayze who ends up protecting a Missouri town from a corrupt businessman.
However, the 28-year-old Rousey wants to be respectful and even reached out to the Swayze's widow, Lisa Niemi, to ask for her blessing. Sources told Variety that Niemi gladly gave it.
In a statement on social media, Rousey said that it's a "great honor to play a part in celebrating the life of a man that inspired so many."
"I couldn't be more grateful to have this opportunity to pay respect to the beloved Patrick Swayze," she wrote. "I promise to work incessantly to make sure this project is a tribute to his family and [something] fans can be proud of."
The studio is reportedly in meetings with writers to get the project into production for 2016.
The "Road House" reboot would mark Rousey's biggest acting gig to date. She previously has made appearances in "Furious 7" and the "Entourage" movie as well as a cameo in "The Expendables 3."
Currently Rousey is attached to three other film projects. Paramount is adapting her biopic, "My Fight/Your Fight"; Warner Bros. is developing "The Athena Project," about an all-female counterterrorism team; she is also set to star in the STX Entertainment film, "Mile 22," with Pete Born directing.
In the meantime, Rousey is training for her Nov. 14 fight against Holly Holm.