'Flipping the White House' goes inside complex process of transitioning from one President to the next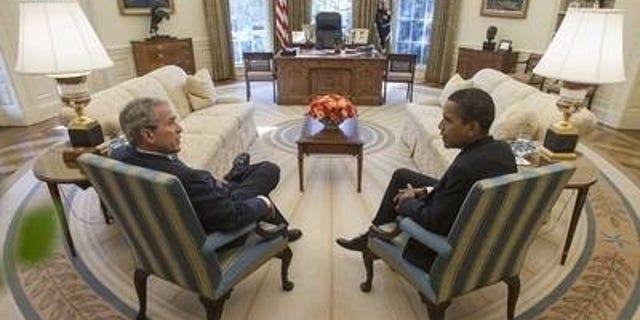 NEWYou can now listen to Fox News articles!
LOS ANGELES – With the Presidential election just over a week away, the Discovery Channel is debuting "Flipping the White House," a one-hour special offering a rare glimpse into the complex process of shooing out one President and ushering in another.
Featuring interviews with former White House staffers including President Reagan's Chief of Staff James Baker, President George W. Bush's Senior Advisor and Deputy Chief of Staff Karl Rove, and President Clinton's Chief of Staff Mack McLarty, the special spotlights the behind-the-scenes intrigue when a new President is sworn into office at high noon on inauguration day.
"The transition is done so that on inauguration day, the new President is really surrounded by the Presidential protection division that was with the former President," Joe Petro, a U.S. Secret Service agent from 1971 to 1993, explains in an exclusive clip obtained by FOX411's Pop Tarts column.
Very quickly, the departing Commander in Chief loses the skilled team that he has come to know so well over the years, and is met by a whole new security detail.
"Agents are assigned to the President, not to a certain individual," Petro said. "If Romney was to win, there would be an immediate shift in agents moving over to provide security."
Petro's time at the White House saw multiple shifts in power. He was on-hand when Gerald Ford was dramatically sworn into the top job following President Nixon's resignation, and remained through the Reagan administration.
"He was amazing, a really terrific person," he said of President Reagan. "A pleasure to work for."
Almost as seemless as the security switch is the process of packing one family up and welcoming another in. Every single trace of the previous Presidency must be completely expunged as the new family moves in, requiring a hand-picked team to hastily remove all remnants of the previous administration from the 3,100 square feet of living quarters.
Interesting anecdotes abound, such as the panic that was caused when President Clinton was late to his own scheduled exit, and the problems that were faced during President Carter's transition amid the Iranian hostage negotiations of 1981.
According to the experts, a smooth and successful "flip" of the White House represents more than just a simple changeover – it represents "the peaceful transition of power for the leader of the free world, which has been accomplished 43 times in our nation's history."
Is the 44th transition fast upon us? Stay tuned...
"Flipping the White House" premieres Sunday, October 28th at 10PM/ET.