Extreme Pet Gifts for Pampered Pooches and Feline Friends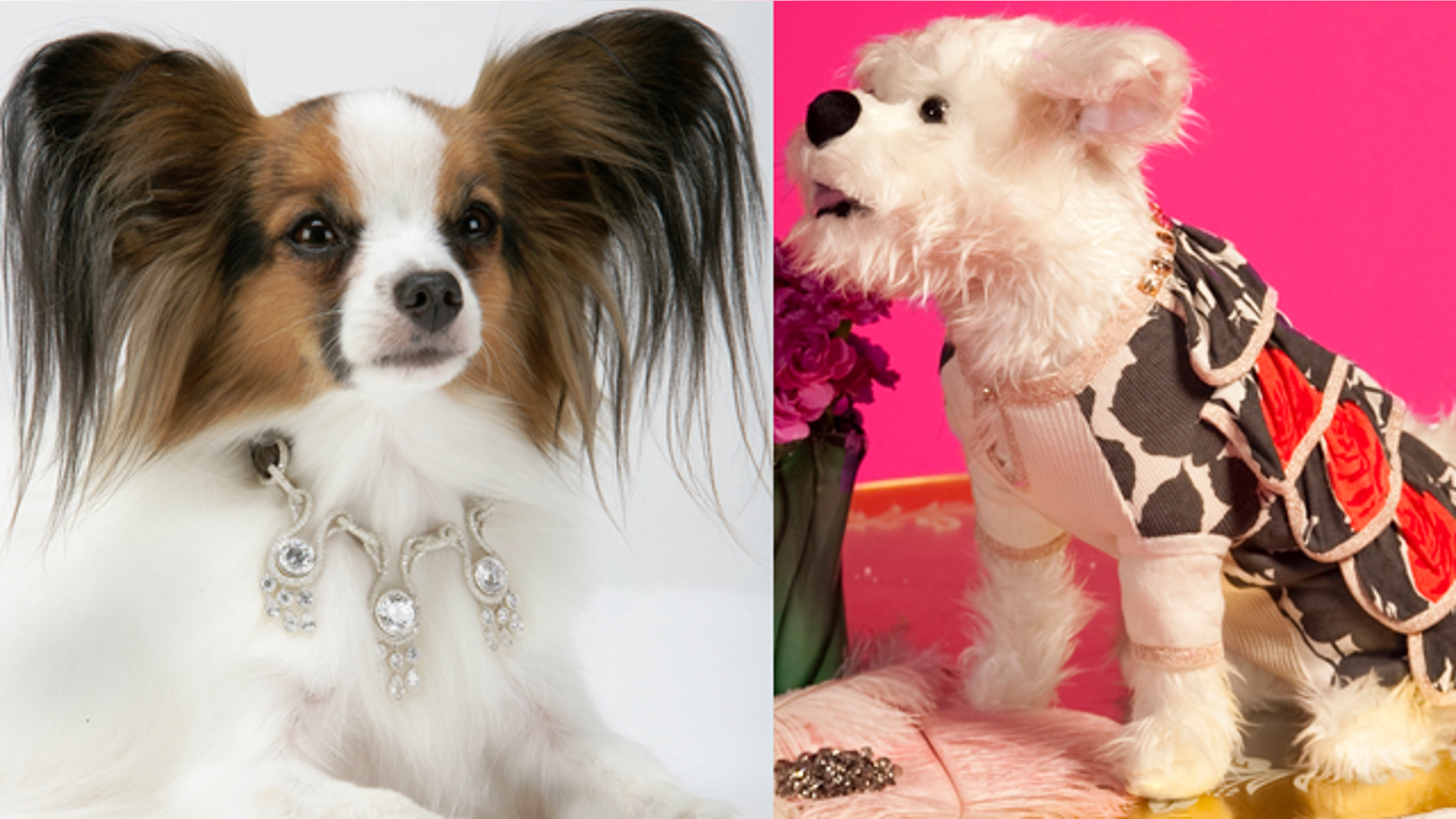 If you're hoping to impress a discerning dog lover this holiday season, you have come to the right place. This season, I Love Dogs Diamonds features a showstopper for even the most pampered of pooches: The $3,200,000 Amour, Amour diamond dog collar.
The platinum, 18-karat white gold and crocodile collar is set with over 1,600 diamonds. So what self-respecting dog would wear this?
"It would be absolutely perfect for Paris Hilton's Chihuahua, Tinkerbell!" i Love Dogs, Inc., general manager Martha Smith tells FOX411.com. "They'll both love it!"
If $3.2 million clams is too steep for your budget, but you still want some glamour for Fido, Wags and Tags' Bowl Me Over dog tag fits the bill. Domestic diva Rachel Ray owns one, while one of Jessica Biel's lucky dogs sports one with pave Cubic Zirconias.
"There are no other luxury dog tags like these—and they come with matching people pendants," Wags and Tags owner Sandy Hirsch tells FOX411.com. "Jessica told me that she loves her dog's tag so much, she's planning on getting herself a matching people pendant."
Hint, hint, Justin—Christmas is coming!
Prices for the dog and people pendants range from $199-$599.
If diamonds don't do it for your doggie, how about DNA? "This is one of the most unique gifts that you can give someone," Zoogen founder Joy Halverson said of the Perpetua Life Jewel Pendant. "Your pet's DNA Helix is embedded in an acrylic cylinder, set in either sterling silver, gold plated or 14K gold, and is available in twelve colors."
While the majority of pendants are made from either cat or dog DNA, one client memorialized a very special finned friend. "Most people don't get super-attached to fish, but we did have one order for someone's fish." As far as other animals, "We've done a number of horses, quite a few ferrets and rabbits and even the odd reptile."
Prices range  $75-225, but as Halverson notes, "The jewelry will be with you long after the pet is gone. It's truly a unusual piece of jewelry."
Once your pet is has the bling, it's time for some designer dog duds! Charlotte Taranotla has fans including dog owners Sandra Bullock, Carmen Electra and Lindsay Lohan. "The pet outfits all match things from the Charlotte Taranotla collection," rep Ada Williams tells FOX411.com. "And even though it's a dog clothing line, it fits cats as well!" The collection ranges from $38-42.
Pet photography is another hot celebrity gift. Paris Hilton recently had six of her dogs and one of her cats photographed by Andy Sheng of Otis and Lucy Photography. "We photographed all of her animals on location at her home—except Tinkerbell," Andy tells FOX411.com. "Apparently, Tinkerbell was on vacation in the Hamptons with Paris' grandmother."
Paris' photo package includes five matted prints, a photo CD and a portfolio box for $1,250.
One of the best kept celebrity secrets is Downtown LA's high end pet emporium Pussy & Pooch. "Last year around the holidays, we had quite a few phone calls from celebrity assistants, looking to create super-secret gifts baskets," Pussy & Pooch owner Janene Zakrajsek said. "We do these great ensembles of treats, collars and toys. For the really outrageous gift baskets, we include a fiberglass fire hydrant as a centerpiece!" The gift baskets range from $300-600.
If your dog needs to de-stress this holiday season (maybe that squirrel in the tree finally sent him over the edge?), send him to the San Fernando Valley's Paradise Ranch.
"We have a dog water park—geysers, waterfalls, ponds—and a fantastic place called Bora Bora beach, where dogs can relax in cabanas," Paradise Ranch co-owner Brian Kenier tells FOX411.com. "We also have a certified massage therapist who gives the dogs massages. The dogs get their treatments by the koi pond in a serene, tropical environment—they can hear the soothing sounds of the waterfall running nearby."
For food, pets get special meals as directed by their owners. One particular client insisted that her precious pooch only be served poached chicken accented with a dollop of crème fresh, snow peas and drank nothing but Fiji water. Just how deluxe does it get? "One couple brought in two small yorkies," explains Brian. "The dogs were here for six days. The couple ordered everything—massages, lots of walks, people sleeping with their dogs—every single extra we had. They ended up spending $5,000 on these dogs in six days."
While Paradise Ranch has some over-the top requests, the base price for new clients starts at an entirely reasonable $49 per night.
"We don't just board the dogs in a home-style environment, it's a resort-style experience. We're driven to provide the best possible boarding experience for all dogs."
And for dogs that can't experience Paradise Ranch, they can snooze in the same pet bed that furry VIPs have in Disneyworld's new Best Friends Pet Resort—the Cozy Puff! Chelsea Handler's a fan, and so is the Old Spice guy. "Isaiah Mustafa has a Rhodesian Ridgeback named Lexi," Cozy Puff owner and designer Linda Fisher tells FOX 411.com. "Lexi loves the Cozy Puff—as soon as she saw it, she climbed in and curled right up!"
Just in time for the holidays, Cozy Puff has a limited edition Christmas bed. "It's holly green with a big, plush red fleece bow," says Linda. "When the dog lays down, it almost looks as if it's gift-wrapped!" Prices range Cozy Puffs range from $105-$265.
PET GIFT GUIDE
Charlotte Taranotla Dog (and Cat!) Fashions